TV Shows That We Watch In Our Childhood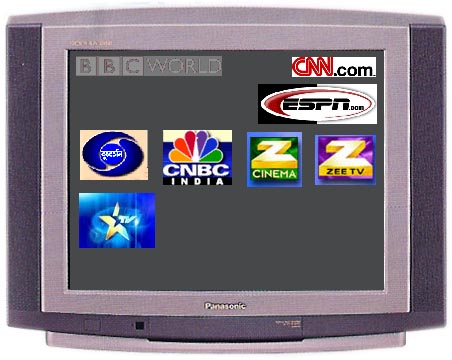 India
June 9, 2011 10:23pm CST
do you remember that days? Innocent days. We all feel very happy when we remember these days. Some tv shows are closely attached to these days. These tv shows are those which we watch when we were a kid. I think every one remember that tv shows and want to see them again now, like me. But i can not see them. Just a small clip me that show remind us me many beautifull mements. We feel very happy to see them. Like we got when i were a kid and want to watch them again. Small wonder, bewitched, hum panch, had kar di, tu tu mai mai, wagle ki dunia, asterix, ghost buster, chutki baja ke etc. that is my list, may be you also like them What's your list?
7 responses

• Hong Kong
12 Jun 11
Tom and Jerry was the show I used to watch when I was very young. My father recorded it and always played the video tapes for me to watch again and again. It is definitely the funniest cartoon I have ever watched. After 20 years I have already grown up, it is now the turn of my 4 years nephew to watch Tom and Jerry. He also enjoys the show very much and he always invites me watch it with him. We both usually laugh our heads off. I think you will never find it boring to rewatch the shows again and again. I do believe that it is very hard to find a cartoon nowadays which allows people of different generations to sit together, watch it happily and share the jokes to others while no strange feeling is derived.

• India
13 Jun 11
You are right, too jerry are evergreen. And classic tom and jerry is fantastic. It is far more better than new one. Now i am also thinking to record it for my next generation. Great idea.

• United States
12 Jun 11
Cartoons, I remember Rocky and Bulwinkle and Popeye the Sailor. Then there were westerns, Hopalong Cassidy, Maverick, Cheyenne. Detectives, 77 Sunset Strip. Film shorts like the 3 Stooges and Little Rascals. Many kid shows a lot of which were local such as Soupy Sales or Romper Room (which I did not watch).

• India
12 Jun 11
you have a quite good list of shows. Thanks for response.



• India
10 Jun 11
i do not know that shows. But i would like to watch them all in hindi. Thankx for the response.

• Canada
10 Jun 11
I miss cartoons, though i still enjoy them today. I still watch them when i run into them on television like channels that run older cartoons. Interestingly enough, the cartoons i watch range from the cartoons my parents use to watch and the cartoons my younger siblings watch today. From Tom and Jerry to Naruto. I cannot give a list because the list could probably run forever lol. But, being young and free without responsibilities was great. That is what i miss most.

• India
10 Jun 11
yes you are right. we can not forget that time when we have no tensions, no stress, no responsibility. as today's life is full of burdens, so we miss a lot our childhood. in cartoons , i reaaly miss astrix, ghostbusters, and disney's oldies which we cant see at tv now.


• United States
12 Jun 11
My favorites: I love lucy, betwitched, and lassie