can u imagine life without internet?

India
7 responses

• Malaysia
20 Nov 06
hmm...internet a part of my income ...:)....so ur can imagine how i without internet ...like one person no job ...:)

• Sweden
20 Nov 06
Good question, I have lived most of my life without Internet but I think I would miss it if I couldn´t get in touch with people in this way. It is so convenient to send an e-mail and check th search engines if I want to know something. And I like earning with different programs....

• Indonesia
21 Nov 06
yes.... maybe we will back to the ancient life.

• United States
20 Nov 06
I don't know i would do if i didn't have the internet. I think i will be lost

• Canada
20 Nov 06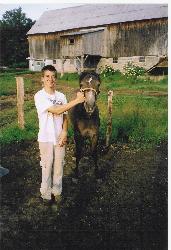 Several years ago, my son who is now 14 came home one day from school and our cable service was out. Here is a child who has grown up with his parents on Internet since day one of his life, and he learned to use it in his earliest literate days! He arrives home and realizes we have no online service. He says, quite surprised: "WHAT? NO INTERNET?" His father and I were literally laughing our butts off over it. He had never known a time that Internet wasn't available. We thought it was pretty bad when we had no black and white television from the antenna because the power was out!! Back then, we lost all 3 channels!!