Final Examinations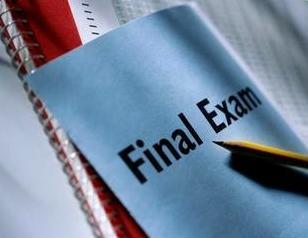 India
July 4, 2011 12:42pm CST
Is it important to give final exams? Because I have to attend my sisters marriage ceremony. SO I am confused. Please give me suggestions.
6 responses


• United States
4 Jul 11
As much as I hate finals, I think they're necessary. An exam is pretty much the only way to test that you know the material that was covered throughout the entire course. You wouldn't want your doctor or surgeon going through med school without having to take a final would you? It's a simple way to test that you know the stuff and you're able to continue on with your education. If your finals conflict with important events, most colleges and professors will work with you and help you out. I know at my college you're allowed to take your finals early if you're going somewhere the day of the actual final. Talk to your teachers about it and see if there's anything that can be done.

• India
5 Jul 11
hi of course it is important to give your final examinations. some might feel that if you had given a fairly good and appreciable performances throughout a year missing out the final exams wont matter much but as a matter of fact if you miss out on the final examinations you actually miss out the chance of acquiring a decent overall grade thereby pulling down your marks .... so think about it do you really want to miss it ???? and by the state you feel sorry about both the dates clashing i guess your sister is someone whom you are so close to . so may be you could try to talk to her about your unavoidable situation i am sure she will come up with a pretty solid answer which will make you happy without making your sister sad. else if that doesn't work out you could try talking it out with your teachers.... they will surely come up with something favorable for you if it is possible by them ... so talk out your problems to both the people .. if luck favours you could attend both else if it doesn't attend your exams and spend the entire days after your exams with your sister i am sure she will understand your situation and hence forgive you for your absence on her special day .

• United States
4 Jul 11
Final exams have been a large part of my grade in every class I have taken since entering high school. That's why it's so important to take them. Even if you've been doing very well in the class, you might end up with a much lower grade if you miss the final exams. What you really should do is talk to all of your instructors. Try to make arrangements with them so you can take the final exams early. Most colleges should have a testing center where you can go to do that. Then you will not have to choose between attending your sister's wedding and completing your final exams.

•
4 Jul 11
Just as 3honor mentioned its your sisters marriage v/s your exams. To get straight to the point she is your sister mate if she really cares about you i doubt she would do anything that would hinder your future. She knows that you would always be by her side. Just try your best for your exams and if you get time why not? :)

• India
4 Jul 11
Are the exact dates of marriage and eXam clashing? What final exams are you giving? You must be in college. If so, talk to your college authorities...