Road construction all over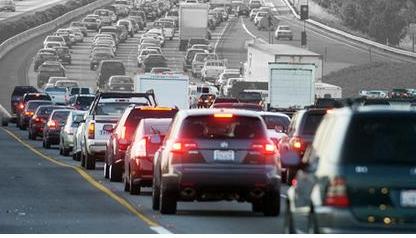 Canada
July 25, 2011 5:36pm CST
Its enough to make a saint curse!! Its bad, really bad because nearly all the highways are down to one lane because of the construction happening. You cant try to get on Montreal Island as they are working on all the bridges and you might be sitting there for hours moving one inch per hour, not getting anywhere. I try not to go anywhere right now because you leave but you never know when you'll be back. I have to go the long way to get to dad's and not get on the highway. So instead of taking me 45 mins, it now takes me 1.5 hrs but at least Im driving and not just sitting there. Do you have to suffer through road construction where you live also? Are you able to avoid it or do you have to suffer through it?
4 responses

• United States
26 Jul 11
I happen to not like construction at all. Right now, my road is getting redone. There is always loud noises, and some days we have to park on another street. They still have a ways to go, but it's annoying when you have to go up the street instead of down when it's blocked. It really isn't much of a delay, but it's not a fun thing either. I can't wait until all road construction in my area is complete.

• Canada
26 Jul 11
Thats bad. I know what you mean and if you go shopping and you have to carry all those bags of groceries all the way to your house, thats really bad. I can only hope it'll be done and over very soon for you! Thanks for sharing and good luck!!

• Australia
29 Jul 11
Not construction...for us it's dirt roads in really bad condition. It's bad on the tires, bad on the undercarriage and the dust gets into every nook and cranny. Some bits are so bumpy that I reckon the nuts and bolts are shaking loose. I had to travel on 144 kilometres of dirt roads today. Not fun.

• Canada
29 Jul 11
Dirt roads??? I havent seen one of those for years and years even. Im so sorry you have to drive through that. It must be bad on your body also. I cant imagine being bounced all over the place in the car while driving. Any hope they'll fix your road soon?

• Canada
1 Aug 11
I know money is scarce all over right now. Here they're rebuilding bridges and highways and they keep hiring the wrong contractor. A tunnel did collapse yesterday while they were doing some construction. Now people are afraid to go to Montreal, they call it "Montreal Ruins"!!!!! Luckily, since they were working on that tunnel, nobody was killed or hurt. But it makes you wonder what type of concrete they use now.

• Philippines
17 Oct 11
yes it gives me more hassle because of construction of train station here. i will go out in my house so early because i know their is traffic that i will encounter in the middle of my driving but i am always late for my work because of stupid construction.

• Canada
24 Oct 11
Sorry you have to leave earlier to get to work. Im lucky to be working from home, so I dont have to put up with this hassle. Right now, the Unions are not happy with our government wanting to come up with a new law preventing the unions from being the ones to say where people go to work. So they have thugs going from site to site preventing the men from working. Right now, all construction is at a stand still here!!!!


• United States
29 Jul 11
Personally the road construction even around here, especially later at night on I-5 or some parts of Seattle, can be quite annoying. There are many times it could be down to like one to two lanes, or they might even close off your exit you need to turn on so you have to go the longer way to get home even. They never STOP to think about who it might really effect. All they are thinking about it keeping the workers employed and here in the US, then charging us more on Taxes, etc. to keep on getting it done.

• Canada
29 Jul 11
Our two countries seem to have the same problems. Keep them working and keep the people spending even more gas to go the long route. Yeah its the exact same thing here. So much so, that I dont go downtown anymore to shop because its such a pain in the neck. A one hour drive will turn into 3 or more hours. That and the road rage that comes with it all. Its been very hot here the past weeks and it makes for explosive tempers. You can have a/c in your car but if you're sitting there in traffic, it doesnt keep the car very cool.....it gets quite hot. I hope you dont have to go through all this to go to work. I work from home, so Im blessed!!