Would you wear a dress designed with the national flag?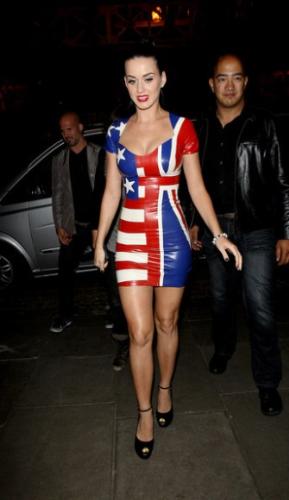 August 6, 2011 5:42pm CST
I've always found it tacky and think that aside from during the singing of national anthems in ball games and independence day parades they should be avoided. What's your take on this? Would you wear something like this on an ordinary day?
7 responses


•
7 Aug 11
I believe it is indeed common to wear a flag designed bikini, I've seen a lot of them. Admittedly they are cute! :)

•
7 Aug 11
Exactly! I would feel so self conscious walking around wearing something like that too!

• United States
12 Aug 11
Well, first off, the flag is a whole other story. I wouldn't wear that type of dress period. Too revealing. lol. And if it had to have the flag design I would only wear it as a costume. To a party or for halloween, but never to an event. It's cheesy. The dress itself kind of fits Katy Perry surprisingly. And I'm not trying to be rude to her....I'm just saying lol.

• United States
9 Aug 11
yeaa, no, i wouldn't. only if it were some national holiday. if not, yea, it is pretty tacky. Maybe cause I am not super patriotic. But I always found those super patriotic kind of annoying as well. I don't know why, I just do. I love this country, but not THAT much to constantly put it on display.


• India
7 Aug 11
i dont think so ...everybody needs to love thier country and respect it ..if you are wearing it in right manner then its ok otherwise i dont think it i the right thing ...i love my country alot..!

• India
7 Aug 11
I would love too. As i love my national flag. So it will not at all be a odd feeling for me.