If its up there, careful what you say on your cellphone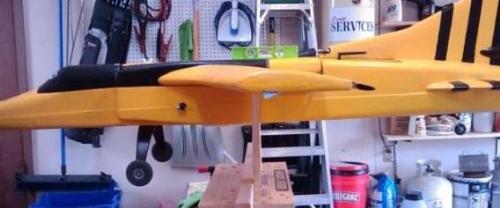 Canada
August 15, 2011 3:25pm CST
Sounds like we need to be careful of what we say on our cellphones now or use them to do our banking because someone might be listening on and being able to get our passwords very easily

. Right now, according to the makers, its not in use but it was copied after a US army drone. So its been done before then and is probably being used again. I guess the reality of Big Brother has been upon us for quite some time. So if this technology has been with the US army for a while, how come they couldnt prevent all the terrorist attacks before it happened?

Well I know the answer to that and I know that some of you know it also but Im curious to know what other myloters think about this

. Heres link to the story, let me know what you think. Does it bother you that someone, anyone might be able to listen in on your phone conversations and get your passwords without your consent? http://www.geek.com/articles/geek-pick/wasp-the-linux-powered-flying-spy-drone-that-cracks-wi-fi-gsm-netwokrs-20110729/
4 responses

• United States
15 Aug 11
you know if i ever found out someone was listening to my conversation ide be pretty upset, because the reason we have phones is to be able to talk and chat to people, not for people to listen to everything we say...

• Canada
16 Aug 11
I would be also but Im afraid we do have reasons to be upset now. I dont know if you read what they said but they are also telling people how they can make their own drone. So who knows who will be making them now and using them. Im afraid our phone conversations, our banking information if we bank using our phones, will NOT be safe anymore.

I know that I wont be using my cell to do any banking just in case. Better safe than sorry they say, right?

• China
18 Aug 11
What horrible it is!If so,there is no secret all over the world.I simple can't imagine what the society is like if "walls have ears" all over the place.Who on earth want to lead the new and high technology astray?

• Canada
18 Aug 11
It started very slowly, with walls having eyes, now they have ears. I think people having a private life will not exist in a few years from now. Scary isnt it!!


• China
19 Aug 11
I am absolutely terrified at the thought of that.

• Canada
19 Aug 11
Im terrified also and angry but Im afraid that we have let them do this to us because of fear. It started mostly with 911, the people were scared and thats when Governments came up with more security, cameras all over the place, more search in airports, more listening devices. So WE the people let them do this to us. I can only hope that more will wake up and tell the Governments to stay out of our lives but I doubt this will happen

You might think Im paranoid, but I keep my curtains closed at all time at home. They have satellites up there who can see it all....even inside your window !!



• United States
16 Aug 11
You know I really think that could be extended to any form of communication. Except for maybe face to face, but even then you never really do know. There are a lot of people out there really who are listening in to all of our information, to grab it for whatever purposes they really see fit. Whether it be the government or even someone who has found a way to tap into the phone lines that is rather scary. I don't think that any form of communication is truthfully one hundred percent secure. There might be times where we are going to seem secure but its not certain all of the time. It really is horrifying to see that privacy seems to be a luxury other than a right. The only thing that is safe are our own thoughts and...well enjoy that while it lasts. You never know if someone is going to tap into that.

• Canada
16 Aug 11
I know. Privacy sure sounds like a thing of the past and a luxury nobody can really afford. Im thinking the only way to feel really secure if you're talking to someone would be to build a bunker, buried under tons of concrete and even then!! I have a feeling that soon they'll be able to tap into our thoughts......you're right, lets enjoy it while it last, unless its already too late!!!


• United States
15 Aug 11
I wouldn't mind it so much if the government did this for security reasons, to search for terrorists in order to prevent future happenings such as 9/11, but if just regular criminals/hackers were able to get their hands on this & use it then yes I would be very upset.

• Canada
16 Aug 11
From what Ive read, the Government already has this technology and they havent been using obviously!! The problem is that the 2 guys who made this drone are letting anyone know HOW TO make one. So then it can fall in the wrong hands Im afraid. So be careful from now on!!