please help with internet speed ...!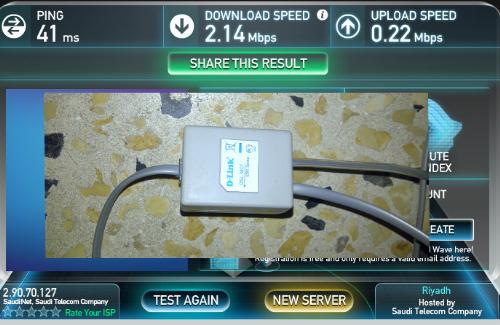 Saudi Arabia
August 16, 2011 11:40am CST
Hello everyone , first thank you for reading my post, well here is my problem : i live in KSA . i pay my service provider for a 4 Mbps service but i barely get 2.5 Mbps of internet(i use speed test to test my speed). i don't no what is the problem i have contacted my ISP in this case STC but they said that 4 Mbps is compatible speed in where i live, but as i mentioned before i only receive 2.5 Mbps so can anyone tell me if i could do something to boost the speed !cuz my friend lives not far from me and gets 3 to 4 Mbps of speeed. I have a Speed Touch modem 585 v6 connected via ethirnet and/or wifi (sometimes) i have a cat 5 cable running from the telephone box downstairs to my house then it is somehow connected to a splitter that connects to my modem . is it possible that the slitter is bad?? and is the modem supposed to connect through a normal phone line to the slitter or is there some sort of a faster line ! Ethernet doesn't fit in the socket only normal phone cable does! Pleas help me i have been suffering for this a whole lot ! and thank you very much. check the photoes to c for urself and tell me if i need a better splitter or and look at the speedtest results thanQ all
2 responses


• Saudi Arabia
16 Aug 11
no man wired is 100Mbps wireless 54 Mbps on my modem im sure !


• Saudi Arabia
16 Aug 11
thanQ man but i disabled the wifi on the modem and i am 100% sure i was the only on connected through ethirnet and no programs used internet! thanQ for the reply!