dog training ideas

United States
November 20, 2006 5:19am CST
i have a dog that was beaten by the previous owner. shes does very sell in the house unless she is left alone or my husband is home. he is lagre and loud and every time he yells she wets herself. but even if hes just home she cant help but go in the house. she will come to me and whine to go out but shes rather hide it in a corner than ask him. he says if she doesnt stop shes gone any ideas?
3 responses

• India
20 Nov 06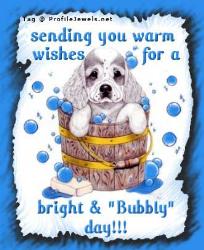 Why do you want a well-behaved dog? • Do you have a generally disobedient dog? • Does your dog embarrass you in public? • Are you sick of excessive biting, barking, whining, etc? • Are you sick of dealing with dog aggression issues? • Do you want to know how to fix virtually any dog behavior problem? • Or, perhaps you just want the best relationship that you can possibly have with your dog... Whatever your reasons are, I've designed my cutting-edge dog training package with YOU in mind, so that you will get immensely satisfying results FAST... Source: http://www.kingdomofpets.com/dogobediencetraining/?hop=myiowa Please visit the following links also to find what you are looking for. http://www.dooziedog.com/reviews/ http://pets.indiatimes.com/articleshow/20762859.cms http://pets.iloveindia.com/dogs/dog-training-tips.html http://www.freedogtraininginfo.com/ http://www.k9web.com/dog-faqs/training.html http://www.dogtraining.com/ http://en.wikipedia.org/wiki/Dog_training Dog training is both an art and a precise science involving a lot of understanding of canine psychology. Dog training is more important for owners of first time pets having medium to large breeds that can actually inflict a lot of damage purely due to their size. This statement holds a lot of weight in those houses having young children. Dog training is a vast domain including early puppy socialisation, house training, basic obedience training and advanced guard training. Other forms of specialised training include scent determination, specialised job training as for the blind and so on. Source: http://pets.indiatimes.com/articleshow/20762859.cms I hope that the info given above will help you.

• United States
3 Dec 06
Try crate training her. That's the best thing that has worked for me. It's really not as bad as it sounds. It helps dogs learn how to "hold it" in the house. That way there's no messes all over the house. Just a suggestion. :)

• United States
20 Nov 06
It might be a better idea to just get a different dog and take her back to the shelter. If she's terrified of large, loud men, like your husband, and if he doesn't have the patience to work with her, I can't see how you're going to be able to change her. Better to do it now before she gets too attached to you. It'll make it that much harder to have to give her up in the future.