When you eat it, does it make you thirsty?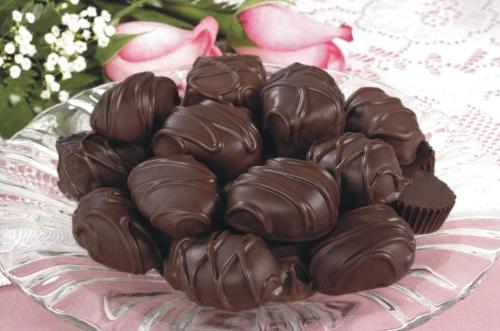 Canada
September 6, 2011 3:14pm CST
I found out from another discussion that Im not the only one who gets thirsty after eating chocolate. Im not sure why and if theres only my friend and I getting thirsty after eating it. So we decided I should be the one asking. So when you eat chocolate, does it make you thirsty after? Could it be because some chocolate are coated with wax? Would you know why? Are there other foods that make you thirsty beside chocolate?
10 responses

• India
7 Sep 11
Magical Bubbles: Yes. I also feel like taking water after taking chocolates. It may be attributed to thirst and also a practice of drinking water after eating something. It will be tasty to take Cabburys Milk Chocolate and then drink some water. interesting.



• Canada
7 Sep 11
Hello Ravisivan,

So you drink water after having some chocolate milk.....I guess it makes sense. I have a friend who gets thirsty after drinking milk

I must admit that I get thirsty ....well even more thirsty after drinking water.....I have coffee then and it quenches my thirst


• Canada
8 Sep 11
Hello Ravisivan, Its strange that I can eat chocolate, well not too much but I cant have shakes if they have milk in them......go figure!! We have those here too in Canada. Hubby has them, I tried but was not doing too good after, too much milk I guess!!

• India
7 Sep 11
Magical Bubbles: Cadburys Milk Chocolate. We get a variety of chocolates in India. Of course it is made of milk. thanks for your reply comments.




• Canada
7 Sep 11
The way you describe chocolate now saying its thick and creamy

now Im craving it

. Someone mentioned it changes the ph balance in our mouths....makes sense too. But Im not going to not eat chocolate because it makes me thirsty

it tastes too good!!

• Canada
8 Sep 11

Of course its healthy, who said it isnt? They also say that chocolate is good for us. It triggers the "happy" hormones in our brains. So why not, we only have one life to live right?

Im having some right now because reading about chocolate makes me want it!!



• United States
6 Sep 11
Salt is the most common thing that makes you thirsty. Maybe chocolate has some salt in it. I have dry mouth so I am always thirsty, that makes me not a good one to answer this discussion.

• Canada
6 Sep 11
I dont have any right now to have a look but yes, I know salt makes one thirsty. But strangely enough, I dont get thirsty when I eat chips....yet they're salted!! Go figure!! If you're always thirsty, maybe you need to see your doctor?

• Canada
7 Sep 11
Im so sorry to hear this. I wasnt familiar with this syndrome and did some research. I can only hope that they can make your life more pleasant since theres no cure


• Philippines
7 Sep 11
I love chocolates! But, I haven't noticed if I get thirsty after eating it. But, then, it is best to drink water after eating chocolates (and other sweet or sticky stuff) to remove particles from your teeth. Also, when I don't drink water afterwards, I often get sore throat or even tonsilitis after.


• Canada
8 Sep 11
Well I know about bacteria in the mouth and I guess you're right, it must be the cause of it. I never forget to wash my teeth before bed, Im a bit of a fanatic and wash my teeth after every meal if Im at home of course


• Canada
7 Sep 11
Really? I thought I was the only one to get a sore throat after eating some foods. I wonder why that is. Might be that some food will stick inside our throats and cause a sore throat. Something else to investigate I guess !!!

• Philippines
8 Sep 11
Yup, usually when I eat something really sweet. Or cold. Or sometimes when I forget to brush my teeth before sleeping. Maybe because the food particles in the mouth become breeding places of bacteria.


• United States
6 Sep 11
I am not much of a chocolate eater, but have not found it to make me thirstier then usual. I also agree that anything with salt in it will make me thirsty. One thing that does come to mind is milk-shakes. Anytime I do have one which is not often it does leave me thirsty for some reason. Maybe because I do not opt for the plain vanilla and know it does whenever I have had a pineapple one.


• Canada
8 Sep 11
Yes Im sure that once a condition has a famous name attached to it, it makes for better research and money to put into the research. You're welcome for the thoughts and I sure hope they'll find something very soon


• Canada
6 Sep 11
Thats weird....that you dont eat much chocolate

and that milk shakes make you thirsty!! Maybe theres salt in the shakes also? Dont laugh but if I drink a lot of water, I get thirsty but not if I drink coffee....I must be the only one with this problem



• South Korea
8 Sep 11
Looks like it's not just us getting thirsty after eating chocolates


• Canada
8 Sep 11
Yup!! I guess we're not the only ones. Makes me feel a bit better,

bet it does you too?

• South Korea
9 Sep 11
Yes actually it does hehe it's always comforting to find people with the same habits


• United States
7 Sep 11
I always have a glass of water with whatever I eat, because I get thirsty while eating. In fact, I drink water, sugarfree Kool-Aid, or milk everytime I consume any type of food product. This way I'm sure to get adequate amounts of fluids into my body throughout the day, so I won't dehydrate.

• Canada
7 Sep 11
We sure need to drink plenty of water to not dehydrate. I tend to drink something hot after I eat and then later on I'll drink cold water. I live on coffee and some water also throughout the day!!



• Canada
7 Sep 11
I forgot about ice cream, yeah thats right.

I too have to drink something after I eat ice cream....usually coffee for me

. Someone mentioned the ph balance in our mouths...that sure makes sense does it?

• Philippines
15 Sep 11
I don't really get thirsty after eating chocolate. I seldom eat chocolate but when I do, I eat too much but I don't feel thirsty after. What makes me thirsty after eating is orange, the freshly ripe oranges. That's why I don't like eating these after a big meal.

• Canada
26 Sep 11
Lucky you to not eat chocolate too often. Well sounds like we all have different foods making us thirsty. Just goes to show you that no matter what, we're all individuals!!

• Brazil
8 Sep 11
I don't get thirsty when I'm eating chocolate, at least I never noticed. But, I do get thirsty when I eat food with a considerable amount of salt, like potato chips and popcorn.

• Canada
8 Sep 11
I eat chips with less salt and no salt on my popcorn. Well try to notice next time you eat chocolate, maybe you do get thirsty but dont notice it. Or maybe you dont get thirsty.....lucky you then.....means you can eat all the chocolate you want!!