my bird drives me crazy

United States
November 20, 2006 9:54am CST
I have a genday conure and he is LOUD. He has this jungle cry, and screams from time to time until I just cover him up. Does your pet annoy you? What do they do?
8 responses

• United States
26 Nov 06
You are too funny. I could never ever ever have a bird. That would drive me batty. We just moved across the country this year and we rehomed all of our animals. BUT before then, my husband's turtle tank made the worst noises and was such a bother to clean and our cat had EVERY bad habit known to man (we were very lucky to find a kind cat person to take her on and retrain her). She bit, scratched furniture, and had taken to going outside her box. How annoying! I feel like we had another pet, but I can't remember one. Was that it? I guess that was it. I felt like we had more pets than that! Small apartment. I've had hamsters as a kid and my stepson wants one, but I'm just not sure. They always try to get out of their cages and they make such a racket in the process. We'll see. :)

• United States
2 Jan 07
Hehehe...Poop Machines..You got that right..lol But I like guinnea pigs, they can be so cute at times with such wonderful personalities.


• Australia
18 Dec 06

These days we only have a dog, Jessie, who is now 18 years old. Of course she has arthritis and is rather deaf, except for the when he make a noise at her feed bowl. She doesn't annoy us, except for when it takes her a couple of minutes to realise we are home and then greets us with her "welcome home bark". LOL But our "best" ever pet, well pets really, were 2 goats we had many years ago when our son was very young. The goats were called Princess and Curly, original names of course. Now when our son would annoy them, Curly would never touch our son but would back him up to something solid and then take a step back. Son would move, Curly would step forward one step and so on it went. Son would scream so loud till we had to rescue him. Eventually son realised it wasn't good to tease the goats. Curly was the worse offended of them, and a couple of his party tricks were to climb on the bonnet of a car, preferably when it was warm. Another was that if you put a glass or cut down, he would drink from it. Great when we had a bar-b-que, and lots of visitors. :) As they got older the goats would go down to the paddock with the cows after milking but after a while get bored and come back to the house. They used to sleep on the backdoor step, so when the cows were in calf a few of them "adopted" these goats, which meant that some of the cows would follow the goats home. Nothing "nicer" than going out in the morning and finding cows leaving their mark at the back door and the goats trying to get in the back door. We never had inside animals at all so they all lived outside. In the end it got too much, so we had to find a new home for Curly and Princess, but they were with friends of ours and both of them continued to create havoc at their new home too. :) Now tell me that your bird is that bad after all pookie. LOL No our pets have never really annoyed me, but they have certainly tested my patience many times over. :)

• Canada
18 Dec 06
My sister had a sun conure, and wow was that thing loud. She'd screech and screech all day long. The only time she would stop was if you took her out of her cage and let her sit on your shoulder. Even covering her up didn't help. My sister eventually ended up giving her away. I have a cat that like to hump peoples feet and legs. She's a girl so I'm not quite sure why, but it's really embarassing. She's fixed and she still does it. We've just learned to ignore her. lol.


• United States
27 Nov 06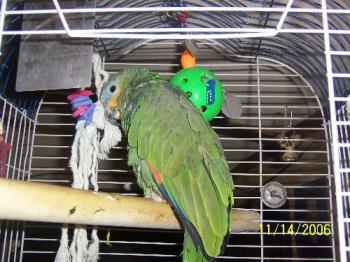 We adopted an Amazon parrot a few months ago.. and what a PAIN! He is a big potty mouth and I can't be near the kitchen without him doing his screaming thing! He thinks because someone is in the kitchen they are after food for him. When the dogs are in the house.. he thinks he has to compete for attention with them.. and he barks! Drives me nuts! This bird has never been handled, he was hand fed though.. so that's about the only time he is gentle and quiet.. when you are shoving food down his throat. LOL

• United States
27 Nov 06
holy cow, I thought I had it bad. Mine screams if I go into the bathroom, I guess he gets confused, because he can see me, then all of a sudden he can't. Drives me crazy, I cover him up when he screams, I hope he will stop because he doesn't like being covered.


• United States
8 Dec 06
I have a friend that has a loud bird...but only when there is someone new in the house. Well, I guess it could have just been me too. But I like to think he was a burglar detector. Anyways, he would get very loud...and I nick named him Lunch. That seemed to do the trick sometimes. I would turn around and just say, "Ok LUNCH!"...and he would pipe down....for a little bit. LOL