2 Broke Girls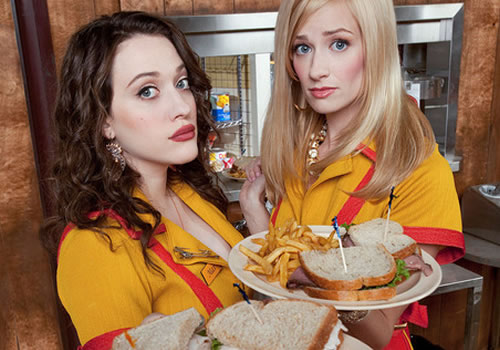 Australia
November 12, 2011 5:12pm CST
...is the funniest show EVER! Have you watched it yet? The humour is like The Big Bang Theory or The Hangover movie or Bridesmaids the movie... Now Bridesmaids was one hell of a funny movie! The main character Max is also from the adorable movie Nick & Norah's Infinite Playlist which co-stars the guy from the movie Juno. Ok I got a little sidetracked there BUT my point is is that this show is HILARIOUS... from the wacky characters to the beachy (see what i did there? ;p) remarks... it is a must see show. please share your takes on the show or if you havent seen it... here's a sneak peek on youtube... http://www.youtube.com/watch?v=hr3FXTioTIo
5 responses

• United States
12 Nov 11
I just watched the link you had put there and I have never seen that before and I really liked it! Thanks I had a god laugh!


• Australia
12 Nov 11
no worries :) glad i made someone laugh today. :D make sure u watch the full episodes i think 8 or 9 are already out. it's too funny to miss :)

• United States
13 Nov 11
Yes thank you for making me laugh! I had never seen that before and it was great! Thanks


• United States
12 Nov 11
The both of them are so funny together. I can't get enough of the blonde one. I thought she would be the dingbat. I think the dark haired one has hr beat. I watched it a few times. with that darn horse out there they are crazy..

• Australia
12 Nov 11
LMAO yeah chestnut is so random... so hilarious when the blonde one fell in his poo BAHAHAHAHAHAHAHAAAAAAAAAAAA

• United States
13 Nov 11
You know something I must watch comes on the same time as this because my mother told me i missed a show when the blonde one went back to her old house to get some stuff. I can't find the time to watch it on hulu. because it will mean I have to stop typing.. LOL

• United States
13 Nov 11
I think it is very funny, too. It is one of several shows this fall that are in conflicting time spots that I like. So I have to tape(yes I'm still using a vcr) and watch at some other time. It is a funny premise and the lead characters are well cast.

• Australia
13 Nov 11
awww that's a shame. what's the other show you watch?

• United States
13 Nov 11
I watched it once.. and thought it was the dumbest thing I have ever seen...and I have seen some pretty dumb things! Here they are broke...yet can afford to feed the horse on the back patio? All the one did was talk about s*x and the other one...was just mindless. I can't believe that is what people like to watch. Such stupidity.

• Philippines
25 Nov 12
Some people probably doesn't appreciate the humour of this show, but it had saved me from my depressing days. Seriously, I thought my boyfriend is always the primitive type, but when I let him watched it he was laughing out loud too. I guess he's not that primitive after all. Well, I think as long as you're matured enough there's nothing wrong in watching this.