Handmade stuff, the best therapy ever?

Japan
November 22, 2011 3:06pm CST
Do you have a hobby that you really enjoy going back to and doing it again? I'm into cold porcelain and I do it since from the start, making homemade clay and all and it's soooo much fun. So my tip is for everybody to find your hobby and do homemade stuff. Maybe to make $$$ with time? Sure! Why not? But begin it for the passion. There are those who are into making jewels, other makes amazing candles...I done both but it wasn't for me, until I found this wich even makes me feel like "Why didn't I ever done it before?" When you are working with your homemade stuff your mind is else where, it's absolutely healthy to have ourselves in the here and in the now without thinking, just enjoying a hobby. We should all try.
10 responses

• Malaysia
23 Nov 11
I love to knit and crochet and have been doing it since I was in primary school. But since I got married and busy with my family, I have since not been knitting and crocheting as often as I like to. And here in Malaysia where I now live, it's difficult to find good materials for my knitting.

• Japan
30 Nov 11
You must be so patient! Congratulations. I took a course to learn to knit, I was half way of a blouse...couldn't finish. My eyes and my patience were tested, I couldn't continue. It's not for me, but it's soooooooooo beautiful! I tried candles, it was really nice but after a while, after taking a course and becoing advanced it wasn't fun anymore. There's not really increasing and doing more, or I just lost the fun of it. But cold porcelain/polymer came as a shock as how fun this is, since making the clay until the making objects. I still love and I think I found my hobby now.

• United States
22 Nov 11
I personally love to scrapbook. It provides me the opportunity to express my creative side and revisit memories that I never want to forget. I get a wonderful sense of pride when I finish a scrapbook and are able to share it with my family members and friends. I think you are so right when you say making things is therapeutic. I have never used my hobby to make money but I think it would be really cool if I could.

• Japan
30 Nov 11
Scrapbooking is sooo beautiful! Do you have a blog or flickr with your work? Try to begin really slowly, like you could show your work on social network and sometimes people might get interested and order. As you love so much, who knows? Maybe one day you can even ONLY do what you love. I'm doing an Aragorn now but I've done One Piece's carachter Luffy for my fiancé, the Aragorn of Lotr is for me, hahaha. It's really fun. I'm also constructing a house, I have the bedroom and kitchen, it's really fun. I was thinking about creating a whole world of polymer/cold porcelain clay. I don't know if these two are the same thing. Hugs.

• Australia
22 Nov 11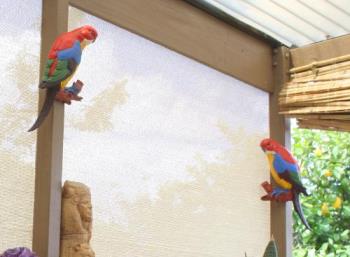 Making things such as crafts, and even doing small things as repairs can be very rewarding, I recently had some repair work done on my house by a friend and he taught me how to use a drill and even left me an old one to play with so to speak. Afew months ago I bought a couple of concrete parrots and I painted them so just yesterday I got that old drill out and put a couple of hooks up and I was very pleased to think I would have once asked a man to do that for me, I am pretty proud of my achievement it does make you feel good.

• United States
22 Nov 11
I like to draw, acrylic paint, or do polymer clay crafts. Right now I'm mostly doing pencil drawing (portraits). Katie, may I ask you how to make your own clay and do cold porcelain. I've never heard of that but it sounds like something I might be interested in.

• Netherlands
22 Nov 11
It can be a good therapy but so is reading a book or picking flowers or salad. For me the last things are better therapy because I can do this automatically. It doesn't keep my mind busy. It gives me time to think over a lot while working. Old feeling, new feeling, not wanting to remembered feelings etc. If I am creating something my mind is busy with that so again no time to think things over. So if it comes to therapy I think it's better to do something you can do automatically as something you need to think out, over or break your brains about. Which doesn't mean I say handmade stuff (no matter what) is not a very good thing to so. I think everybody should do it since creativity is the solution to so many problems and it's great to discover time after time that you are talented.

• Japan
30 Nov 11
I see, thanks for sharing! I do prefer things that actually takes my mind off thinking, that's what I think it's good therapy. I'm in love to polymer/cold porcelain art and I can't think when I'm doing them. It's exactly the feeling of being a chlid again when we used to play for a long time and realize it was night.

• India
22 Nov 11
hey it seems really great to making that stuff, and if it's a hobby makes perfect combination. Really life is such a tension that doing such works can give a lot of relief to anyone.... So else you do...


• Philippines
23 Nov 11
I love arts and handicraftings. I know how to crochet,cross stitch, embroidery, and paper arts. I did make/earn extra from those hobbies.

• Mexico
28 Nov 11
Hi katie: I like your idea and when I have experimented this feeling and I have made handmade stuff I have felt better because you leave all teh things that are hurting you outside. I also tried to do some relaxing activities that would help my mind. ALVARO

• United States
23 Nov 11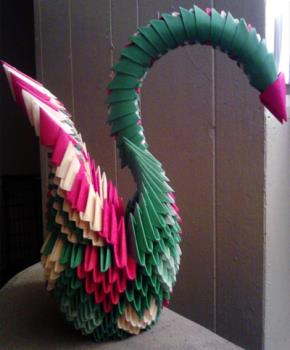 I spend a lot of time keeping my hands busy with folding modular origami. It's easy, but tedious, and doesn't require too much effort to make when I'm just sitting and watching a movie or something.