The First Shall Be Last...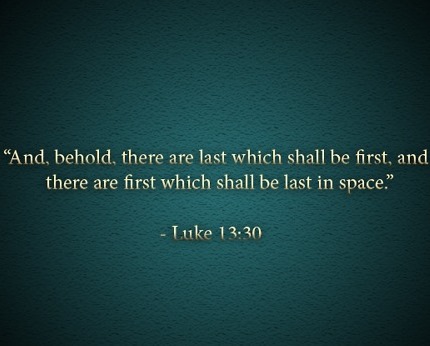 Philippines
December 18, 2011 6:53am CST
In many places in today's world, you will be first if you can scare somebody else into being second. Being "the greatest" is very important to many people. That leaves no room for everyone else. If you want to get God's attention, you can't be trying to grab first place. God says, "Come and let Me put you in the place I have chosen for you. That's where you'll be happy." But if you're just trying to be important all the time, you're going to be miserable. You won't win most of the time, but you will wear yourself out by trying.
3 responses

• Philippines
5 Jan 12
Yeah that's true, Same with being humble. Humble yourself down and then you shall be exalt. I wonder why would other people want to be the greatest. Humility does not mean thinking less of yourself than of other people, nor does it mean having a low opinion of your own gifts. It means freedom from thinking about yourself at all. Usually those people who want to be the greatest are egoistic. That's what i know. They always want to be recognize. i know some people like that. But God will put you in your proper place no matter what..

• Latvia
18 Dec 11
That what you have said is so truly! I could remark only that to be the last is hard work, because the person must have great patience, humility and strength to overcome his own ego, his selfishness. Those who truly and cordially help other, God will place in the first place, they will get no money, no glory, but they get much more - true love, friendship and respect from others, and such kind of things you can't to buy for money or get with a power! Thank you for this discussion!

• Philippines
18 Dec 11
I was enlightened with this one! I remember that when I was young , I've read a parable about this kind of situation. I do believe that hitting the first place is useless if you are not worthy of it, or you didn't do your best.