What would you do when you are sleepy at work?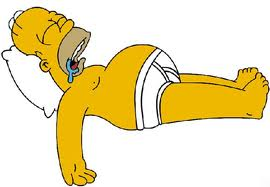 Philippines
May 21, 2012 1:58am CST
I am at work now. And I am super sleepy. As in my eyes are dropping and I can't think properly. My head is blank. But then again I am writing this. So far all I want to do is lie down, hug my pillow and dream in wonderland. It's three in the afternoon here and three more hours before time-out. I really want to sleep now. Maybe I can sneek off and hide inside the comfort room to take a nap. Or maybe I just need a dose of caffeine to jolt and pump the adrenaline inside me. Or should I move around and walk it off? Anyways, if you were I, what would you do to this sleep tantrum?
6 responses

• Philippines
21 May 12
Drink some coffee, tea, energy drink, soda (like Coke or Pepsi) or any other beverage that has caffeine. That will definitely keep you awake for a few more hours. You could also walk around a bit or stretch. You could also try taking a short break and talk with your colleagues. If I were in your position, I'd just drink some coffee and stretch a bit. Of course nothing can replace sleep. Take a power nap if it's possible.

• Philippines
21 May 12
I just took a cup of instant coffee. I am still sleepy. Well, I would sleep early tonight.

•
21 May 12
I used to fell asleep almost everyday in the afternoon when I was working. What I used to do is find a private room and sleep for atleast 30minutes if I did not have much work to do or just walk around the room for a few minutes and try to refresh again.

• Philippines
21 May 12
I wish I could. The most private room here is the comfort room. lol.

• United States
24 May 12
This was something that would happen to me from time to time when I was working outside the house and there were a variety of different things that I would do in those situations to get over the feeling of tiredness that I would have. The first thing that I would do is to get up and take a walk for about five minutes. I found that getting my heart rate up would make me feel less tired. If that didn't work, then I would get some coffee or soda and drink that for the jolt of caffeine that it would give me.



• Philippines
20 Sep 12
Oh, I am pretty sure that everyone is so guilty of this one! For who would not want to lie down all day long, just relax, sleep anytime we want to, and eat when what we want to, right? So you are not alone in this predicament, Ethan! ha ha! .. The best thing to do is stand up straight, and do a little stretching. Just a little bend here and there, just do it slowly and yet properly, and lifting or raise your arms alternatively. After that, simply wiggle your toes, right then left.. This will wake up those sleepy bloody fluids in your body.