What would you do if you find out Your Son is Gay?

India
May 22, 2012 8:31am CST
I was going across few discussion in this site on this topic and saw a high degree of contrast on people's attitude. Some people said they would happy accept it while some said they would spank their son really hard if he was gay (one big jerk). Well I'm from India and in my society, acceptance from the parents and society for being gay is almost impossible. People do not even come out due to fear. Well what is your opinion about it? Though these days people have become more broad minded and some people do accept it and its really good.
10 responses

• Philippines
22 May 12
I don't have a son, but I have a brother who may have the tendency to be gay. Well, he hasn't admitted anything, but judging from the way he blabs and his attitude, I think he is...and if he would come out, I won't have any problems with it. I hope he will come out soon, so he won't be having a hard time trying to hide it from people. I'm sure its not easy to have identity crisis, and he's already turning 29 this year.

• United States
22 May 12
I have a brother I suspect of this also. I know he has tried women's clothes on and such for one (in "secret") and he doesn't seem to be out there asking women out, etc. So what else would I think. Especially if he makes comments if a girl and guy are on TV kissing as if he's disgusted. The funny thing is my mom has thought I was gay at one point and that couldn't be further from the truth, she also thought the cashier girls at the store that day were laughing at her and they weren't, so there you have it. She "nitpics" over everything anyways too, no matter how ridiculous it is. Insanity runs in my family, haha. Not that gay is insane (I was joking) but I mean that it just wouldn't surprise me if he said he was gay either, he is 45 so it would be about time.

• Philippines
23 May 12
Nowadays, it really doesn't seem like a big deal anymore when men suddenly claims they're gay. Even in the celebrity world, guys turn to gays in a snap. And, I guess its better that they come out sooner, than hide and pretend they're something else.

• Philippines
23 May 12
actually this is a really tough question indeed. Because for us parents we were expecting our son to be really normal being. But if these things would actually happen, we cannot change it if it's really your son's hormonal uniqueness...At first maybe it would be hard to accept it but later we have to think that it is not even our child's fault to be like that, so better we should accept it so we could guide them on how to grow up and act appropriately despite their differences. I had really this thinking already though I still do not have a son, luckily my child is a girl, for they said it usually is a genetic problem and which happen that one of my grandfather's brother is really gay...



• Malaysia
23 May 12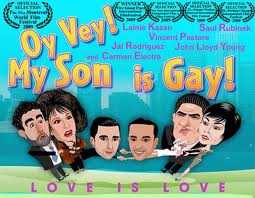 It depends on your is your religion and culture of the place u are staying , some country are quite open those these relationship , while some countries are very against these gayness , which can cause these couple to be procestued in the public.Personally it will be sad to know about that , because knowing my son will be prosecuted for his sexuall preference, i no problem . maybe ask him to migrate to other country for his safely.


• United States
22 May 12
It should not matter to me as a parent if my son were to be gay. he would still be my son and I would still love and support him. I might not agree with some of his choices, but i would still have my son in my heart and do anything for him. Being gay should not be an issue.

• Carlisle, England
22 May 12
I know this is a stereotypical view (and I'm sorry if it offends anyone) but my Mum once told me that she wished her son was gay. The reason? "He'd talk to me more and we'd probably go shopping together." Aww.

I don't have any small children or grown-up adults but if any of them were gay (either male or female) it wouldn't bother me one bit. Life's too short to worry about it, is my view.


• United States
22 May 12
I don't understand why this even has to be an issue. I don't have a son, so if it were my daughter or my grandson I would accept them for who they are. Everyone should be respected and accepted for whom they love. Some people are wired differently. What kind of parent would refuse to accept their child for their sexuality that they have no control over. They can't control what gender they are attracted to. What kind of parent would be so judgmental that their son or daughter would have to hide who they are? So many young men have killed themselves due to the stress people cause them over their sexuality. It's no one's business so people just need to get a grip on reality.

• Philippines
23 May 12
of course for any parent this would be hard at first because as much as possible we want our children to be normal and to act and feel the way they should but if this is the case, there is nothing we can do about it but accept a son who is gay, because no matter how much we want him to be male or macho this cannot happen anymore because they way he feels is different. it would be hard to force them so just accept it and support them where they are happy. it will be different for other people depending on the attitude and culture, but that is the way they are as long they are not bad people or son, just accept it.