Euros: Spain and Italy play out an exciting 1-1 draw!!

India
June 10, 2012 1:38pm CST
Spain and Italy played out an exciting 1-1 draw in their opening encounter. The Spanish armada started the way they usually do with a lot of ball possession, but as the game went on Italy started to create more clear cut chances. The goals came in the second half, with Di Natale opening the scoring for Italy. Within three minutes, Spain equalized through Cesc Fabregas. Both teams had enough chances to win the match, but failed to break the deadlock. I think Italy would be more happy with this result than Spain given the turmoil they have been through in the recent past. Cheers! Ram
9 responses

• Greece
11 Jun 12
Another great match. Good thing that both teams tried for the win. I was expecting Italy to be too defensive in the start but they played a good match. Unfortunately a couple of more bad reactions for Balotelli, if he could have played for the team they might have had more chances to win the match.

• Indonesia
11 Jun 12
lakantar, i had said in another discussion, no more the coach who put the defensive formation like roberto di matteo in chelsea.. i think i must praise the tactics of prandelli..he modify catenaccio with good, and it is not boring when we see the game of Italy against Spain

• India
11 Jun 12
Yes, it was refreshing to see two sides willing to have a go at each other. And in that Italy showed the weaknesses of this Spanish team. I think both up front and in defense Spain has problems, but in midfield they have some of the best talent in the world. Cheers! Ram

• Greece
12 Jun 12
@adhyz82
It always depends on the team roster, this Italy for example can play as a favorite in a match so It would be wrong if they did play catenaccio, if we are talking about teams that have a huge difference in the roster quality then I won't mind if I see a team defending massively cause in the end we might witness that way big surprises that make football one of the few sports where the outsider can win a match against a superpower. Just like Chelsea did this year, just like Greece did in 2004 Euro.


• Kota Kinabalu, Malaysia
12 Jun 12
I am disappointed with Spain but greatly impressed by Italy. I feel that Spain could have done well with a regular striker from the start. I hope Spain will not use the same no-striker formation again to play Ireland. If they do, they may be frustrated again. The way that Italy played was active and positive. They were always looking for chances to shoot. I am pleasantly surprised by Italy and now I hope that they will keep going playing the same exciting football like they did in their first match.

• India
12 Jun 12
It was really a telling story of how much confidence Del Bosque has on Torres. To start Fabregas as the striker. I think this can have two effects either completely break Torres or really irritate him so much that he would really come to life in the next game. Cheers! Ram

• Kota Kinabalu, Malaysia
13 Jun 12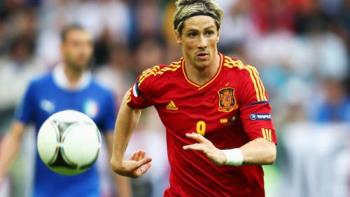 I feel that if Torres was played from the start, it would have been a different outcome in that match. I feel that it is unwise to try using such a new formation in the first match of a major tournament. Their usual formation had served them well. I don't see that they had such an urgent need to change as they had 3 great forwards in their squad.

• Australia
11 Jun 12
Yes, it was indeed a very exciting and tense game as the two giant football teams faced off. I thought both teams did pretty well, although I reckon Spain had the golden chance to seal the game via Torres with his chipped ball that unfortunately didn't hit the target. It's great that we already have these exciting matches in the group stages; can't wait to see some great football as we approach the knockout stages!



• Indonesia
10 Jun 12
i had predicted that Italy can give some trouble for Spain the duet of defender, sergio ramos and pique is not better..iam doubt why (in the next game of spain), vicente del bosque did not try use Pique and javi martinez as central defender and put sergio ramos as right defender.. the weak sector of spain tonight is right defender..alvaro arbeloa is the weakest position last night

• India
11 Jun 12
I think this Spanish side looks a bit unsettled in the back. Before Italy scored the goal, there was another golden chance for Ballotelli when he took the ball from Sergio Ramos. But strangely instead of shooting, he allowed Ramos to come all the way back and make the tackle. It seemed a very bizzare bit of footballing by Ballotelli. Prandelli immediately replaced him and Di Natale scored on coming in as a substitute. Cheers! Ram

• India
12 Jun 12
Italy played pretty well i guess. But the main reason they were successful was that spain could not play their possession football like they usually do. They only had 60% possession. Anybody know why? Its was all over they news after the match. The pitch was really dry. They could not pass the ball as usual . According to me Spain are not looking good at the moment. The might struggle in the course of the tournament. They were clearly having problems in the back and they looked uninterested to move the ball forward . They were clearly missing Carles Puyol and David Villa. Watching the match i got an impression that against a team with good tricky and speedy wingers, Spain might have a problem.

• India
11 Jun 12
It was amazing to see how short-lived the Italian glory was. Just three minutes after di natale's goal, Fabregas scored to equalize. A game fought in good footballing spirit!

• United States
10 Jun 12
Thanks for telling me.So Spain Has to close the next match. They can do it, they just Need to do it!

•
10 Jun 12
I agree Italy will be pleased with that result as both teams had chances to score. Although Italy will be upset at conceding so soon after scoring. Do you think at half time Spain should have bought on a target man like Llorente? I certainly think so. Both teams looking good for a first game in a major tournament. Would fancy both teams to improve and to get through the groups stage.

• India
11 Jun 12
I think that is why the injury to David Villa could cause Spain the title this time around. The confidence in Torres and Llorente is so low that they decided to play without a striker. Of course, they got away with a draw in this match, but had Italy defended better immediately after the goal, Spain would have paid a heavy price for the gamble. Cheers! Ram

• Malaysia
10 Jun 12
Exciting match but disappointment for Spain, who had the chance to seal a victory and Torres is trying to be that sharp as he was in Liverpool or some years ago for spain. Am disappointed with Spain as they try to employ the Tiki-Taka style of Barcelona a bit but Italy withstood them. If not for Inesta in most of the match, Spain was not dreadful at all. I think they are now sitting on a tight rope in the group. They have to finishing classically or their next opponent will take them in their own game. Italy was not over-shadowed. I like their display. Excellent

• India
11 Jun 12
I think Torres missed out a golden chance with the one on one he had with Buffon. A Torres in form would have buried it, but this Torres is short on form and it shows in his poor first touches. But I must say like you I was also impressed by Italy as they seemed very focused and keyed up for the match. Cheers! Ram