Euros: Shevchenko turns the clock back to help Ukraine beat Sweden 2-1!!

India
June 12, 2012 12:22pm CST
Ukraine went to the top of the Group D with a 2-1 win over Sweden. Andreiy Shevchenko turned the clocks back to score the brace that gave the hosts a good win to start their campaign. Ibrahamovic started the scoring for Sweden in the 52nd minute putting them ahead with a close range strike. But the lead lasted just 3 minutes as Shevchenko headed home the equalizer. Then he grabbed the winner in the 62nd minute to seal a famous come from behind win for the hosts. Will Ukraine edge out France or England for a place in the knockouts? Cheers! Ram
4 responses

• United States
13 Jun 12
Wasn't this great?! It was like a Hollywood movie. Local boy scores on his own pitch , in a match he wasn't even suppose to play in! I was so happy for Ukraine. Call me a softy but I want the host country to win at least once!

• United States
14 Jun 12
I love it when the underdog does well.

• Singapore
14 Jun 12
Touted as the battle between Ibrahamovic and Shevchenko, the Ukraine came up tops. This marks Ukraine first ever victory in an Euro finals. From I have seen, France and England does not have to worry much about them. Barring any major collapse, they should proceed from the group.

• India
12 Jun 12
I dont think so. Ukraine won the game against Sweden. They have two games left, one with France and one with the English side with Wayne Rooney. For Ukraine to upset either France or England they have to defeat them. Looking at the way the Ukraine play and the French offence i can't see the host beating the french. Their last match is against England. England are playing with typical roy hodgson tactics. Their defense is strong and got world class central midfield in gerrard, parker and young. With wayne Rooney returning for that match i really feel that the chances are really slim for the Ukraines. But its football. U never know what is going to happen.

• Kota Kinabalu, Malaysia
13 Jun 12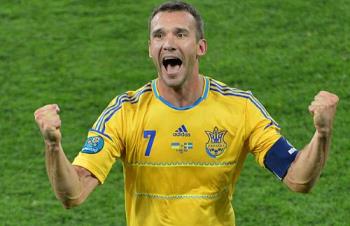 I am glad to see Shevchenko scored the two goals. He has been such a great player since 1995. His performance in AC Milan from 1999-2006 was simply a showcase of what a striker is all about. To score two headed goals in Euro at the age of 36 is amazing. ???? Shevchenko! Ukraine stands a chance to qualify, just like France and England, even Sweden is not out of it yet. There is still much to play for. On paper, it is France and England the favorites but with home crowd support, the Ukrainians may do magic and spring some surprises.