Do you eat all the food served on your plate?

United States
10 responses

• United States
20 Jun 12
Hello livingforever As a rule, I do eat all the food on my plate. I abhor the wasting of food. If I had a habit of not eating so much food, I would start with less food and add more if I was still hungry.

• United States
20 Jun 12
My problem is that I am so hungry when I put the food on my plate, I have intentions on eating it but I just can't finish it. I always pack it up though, I don't have a problem with eating left overs.

• United States
20 Jun 12
Perhaps you could get smaller plates? Then adjust your eating habits in that way.

• United States
21 Jun 12
I'll give it a try, I do have smaller plates and I suppose if I wanted more I can just get up and get more.

• United States
22 Jun 12
Yes, I clean my plate off whenever I grab something to eat, which usually draws attention because I put a lot of food on my plate. Most of the time, I hear "You're going to eat all of that?". My appetite is huge. It's part of the reason that I don't like going to restaurants as much because if I am hungry, then I will order to feed me, not for appearances. So that would mean having a meal served on two or three plates, a couple of times four plates. Or I will eat something before I go to a restaurant so I don't eat so much. The 'problem' with weightlifters, we have large, expensive appetites, so we can order a ton of food and eat it all, and could be hungry some time later. If I eat like a normal person at home, there would never be any leftovers. For me to get full and have leftovers, I would have to cook enough people to feed a large family. I love my big appetite.

• United States
26 Jun 12
My husband is a weight lifter too and he eats so much food! But I started putting less on my plate and eating it all! If I want more I just take a couple spoons if I need more satisfaction but for the most part, less is more now to me!

• Malaysia
21 Jun 12
If you ask me, regardless of what the amount, i am always able to finish everything. Depending on the amount, if it's a little, kinda look like the stingy restaurant type of serving, i won't take very long to finish it all. If the amount is alot, or plateful, i'll take sometime to finish it. I would slowly bite, munch and taste it and maybe think about something else, before i know it, the plate is empty.

• United States
22 Jun 12
I heard that eating slow fills us up faster because it takes 15 minutes for the brain to register that the stomach is full. I have always been a slow eater and I am always interrupted while eating with my kids wanting something and just getting up and continuing to serve everyone. I rarely get to enjoy a hot meal!

• Hungary
20 Jun 12
I usually do, because I can usually calculate it. But there are days (or the food is heavieer than it looks like, like some pasta which has an extremely thick cheese sauce, which looks thinner), I'm full after even some bites. Oh, and in restaurants... in my country restauramts are known for giving too large sizes of food :D.

• United States
21 Jun 12
Your right, I think the consistency of the food has a lot to do with it too. I always overflow the oatmeal! You must be in the good ole' supersized USA!


• United States
20 Jun 12
You make me feel so guilty! I should put smaller portions on, I'll try to think of hungry people but I can't really help feed them unless they are at my house eating with me. Then I would definitely share no matter how much I want to eat, I always serve my guests first.


• United States
20 Jun 12
I heard that the color contrast helps with portions too, I try to use a colored plate that doesn't match the color of the food but that still doesn't help! lol!

• Bulgaria
20 Jun 12
I never ever finish all the food on my plate, I don't know how I do that but I always leave 2 bites in the plate. No matter what I eat I never finish it. I think this is just a bad habbit from when I was just a kid, but thats just me. I like seeing some food left in.

• United States
20 Jun 12
Sometimes I leave half a plate! lol, I do that with oatmeal usually because they water puffs it up and with the extra stuff I put inside like bananas and walnuts, it's just too much.


• United States
20 Jun 12
Some foods don't taste good left over for the next day but there are others that just absorb more flavor or thicken. Stews and beans, I can eat those stored for a few days but I don't like meat or fish reheated.

• Philippines
4 Jul 12
I finish all the food on my plate, no matter how big the amount of the food is. I just feel like I need to finish it. Sometimes I don't finish it when I wan to give it to someone hungry.

• Philippines
4 Jul 12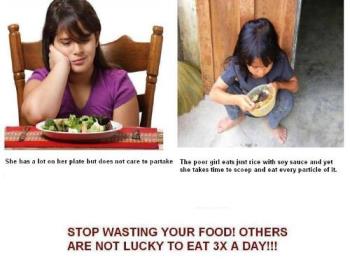 Well dear take some time to see the photo I posted below so that each time you leave some food for the trash you can remember this photo.

Indeed others do not eat 3 times a day. They would be overjoyed if they could. Sadly they don't have the means and have to be contented with just one humble plate of rice and some salt or soy or fish sauce. But there are those who have aplenty, they can afford to have so much on their plate, they can afford to eat 3 or even more times a day but they waste a lot not unmindful of the fact that the food they wasted is already a source of joy to those who have nothing to eat. I wish everyone would learn to get just the right amount on their plate so no waste is done and hopefully all of us will learn to share our blessings with those who are needy.