The New Phillip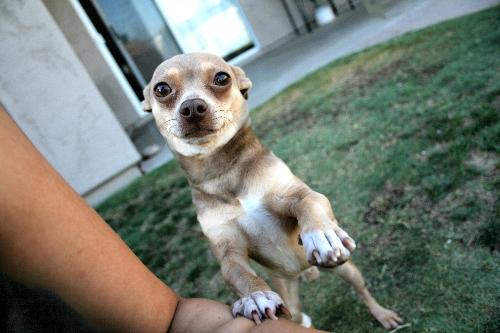 United States
July 1, 2012 9:33pm CST
A while ago I posted a discussion about my family finding an abandoned Chihuahua on the side of the road. I told you of a dog who was dirty, scared of everything and everyone, and in need of a lot vet care. I am happy to report that little Phillip is now a happy, healthy, neutered boy that is learning to trust people and is starting to play with our foster Chihuahua. Phillip is eve starting to try to play with our big dogs, and accepts kisses from them. We have also discovered that Phillip is a good dancer! He can stay up on his hind legs pretty long as long as he thinks there is a treat waiting for him! Here is a picture of the new, happy Phillip!
7 responses

• United States
2 Jul 12
Ah, this is GREAT news, LilyoftheThorns! I am so happy for Phillip. He is adorable. It sounds like he is very well cared for and I just know that he is so happy with his new home. A few years ago a friend brought my father and I a Chihuahua they had found on the roadside. He was a young male puppy of about a year or so in age. He was grossly underweight. We took him to the veterinarian and our first task was to fatten him up. We were able to do this and he gained three pounds in a month!! The rest of the time we just spent playing with him and discovered that he was quite playful and almost like a circus dog! In fact, we wondered if he wasn't an escaped circus dog? He brought us a lot of fun and was incredibly loyal and loving to us. He was definately a blessing in our lives as Phillip is in yours. Peace


• United States
2 Jul 12
We did all of those things at the veterinarian as well, except that Pico didn't have a bad skin condition. We mostly fed him hot dogs. He loved them. I would cut them into slices, then quarter the slices. He ate tons and tons of hot dogs in addition to his dog food. Pico loved to run as fast as he could. He would run all around the house, so fast, often sideways on the wall and the furniture!! I am very excited to hear about Phillip and his new life. :)

• United States
2 Jul 12
Aww Pico was a spoiled boy! Phillip is too, except Phillip seems to really like watermelon! Haha. I'm sure he wouldn't turn down a hot dog either, he just hasn't had an opportunity to have one yet. Phillips Duclaws were SO bad, they looked like Ram horns. And he even had TWO nails on one toe!

• United States
2 Jul 12
Ah, poor guy. That must have been incredibly painful! So glad that Phillip has found a great new home and you have a great new friend. :)

• Romania
2 Jul 12
I am so happy you decided to keep Phillip! He needed you and you offered him all an abandoned dog need: a home and a family. It's good to know that your bigger dogs accept him and do not hurt the new little dog. This means they are all balanced dogs. I wish I could see little Phillip dancing. Have you thought about shooting a short movie with him and making him a star?

• United States
2 Jul 12
Thank you! My big dogs thankfully had practice with little dogs because we were fostering a Chihuahua when we found Phillip (we're still fosterig her). So our household is up to 3 large dogs, and 2 small dogs! Haha. (Not to mention our 3 cats and 4 birds). I have a couple pictures of Phillips dance, but I haven't taken a video yet! I'll have to do that!

• United States
4 Jul 12
Awwww!!! He looks so very sweet!!! Thank you very much for the update. I remember your discussion well when he was first rescued after being cruelly abandoned like he was. He now looks happy. I'm sure he knows that he is with a family who loves him now even if it still takes awhile before he is completely at ease. Poor little guy didn't deserve such a fate before you took him in. (It was your mother who found him, wasn't it?) I think Phillip and my little Maltese, Lilly, would be so cute together as she also stands on her hind legs as long as she thinks there's a treat waiting for her. She looks like a little circus performer. Give Phillip a hug and a treat for me!


• United States
5 Jul 12
Awww two dancing dogs!?!?! That would be cute! I really need to make a video of Phillip dancing, it's so cute. He does a little hop. Lol Thank you mental (haha), I know he's happy here, and he really is a little joy! I'm glad we got him (yes it was my mom who found him-your memory is much better than mine!).


• United States
2 Jul 12
hi lilyofthethorns! what a sweet picture...and a great name..i am happy for your family and for philip!

• United States
6 Aug 16
Ah, so cute, are you going to keep him, or find him a home? I would be attached to this little guy and couldn't let him go.

• United States
7 Aug 16
Oh no! My mom kept him :) Over 4 years old she still has Phillip and he is very very happy.

• United States
2 Jul 12
I don't remember that discussion maybe it got away from me..Anyway, Phillip looks wonderful and I love his coat, the color is beautiful. I can't imagine why anyone would abandon this little guy, he is so sweet and I am glad your family was there for him..



• United States
2 Jul 12
Thank you Carmel

Yes he is a very cute little dogs. You can't see his ears in this picture, but he has big cute ears! My mom and I say he looks like a seal in this picture because of the lack of ears! Haha