What's your idea of fast food?

China
9 responses

• Philippines
5 Jul 12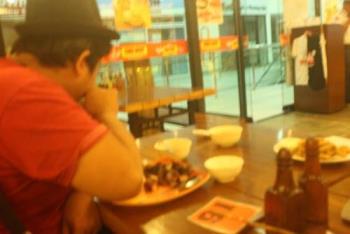 I do go to fastfood with my family once in a while but not always because the food served there are mostly fatty. While it is true that fastfood makes life easier for those who are fond of cooking at home, I still believe cooking at home though hard has always been the best way to assure that we are all eating healthy foods.


• France
5 Jul 12
Hello there, I will only take fast food when I am travelling around in other countries. I don't really like it because it is not good for our health. But, during some special occasions, such as on our birthdays or the new year, we will just spend some time to go have a dinner together in KFC or MCD.

• Canada
5 Jul 12
My idea of fast food is when you buy foods from a huge fast food chain restaurant. I think it really is a more of a convenience thing because the food is already prepared for you. I know that fast food isn't really healthy for you to eat because of all the oils and salts. So I just eat fast food around twice a month.

• Singapore
15 Jul 12
Yes, I like to eat fast food too! - in the past though. I would go Mcdonalds/KFC maybe once in two weeks in the past. Yeah, kind of fattening to eat fast food twice in a month. Now that I realise that one fast food meal brings so much calories, I cut down on fast food. I would visit fast food restaurants maybe once a month or even once every two months. That's because the thought of me eating not the fries but the oil disgusts me. LOL. (plus, it's hard to get rid of the oil!)

• Philippines
6 Jul 12
I like fast food too before we used to eat in fast food every other day since I am lazy to cook and tired most of the time but when my husband and I noticed that were getting bigger and fatter we decided to avoid fast food for awhile. Now we preferred to eat homemade foods which is more healthy and I can save money.

• China
5 Jul 12
As we all know that, fast food does do harm to our health. Usually I don't go to eat fast food, and until now I have not been to fast food restaurant for two years. Maybe if you want to be convient, you could have some noodles, dumplings and so on.

• Guangzhou, China
6 Jul 12
I also like the fast food. And I don't think the fast food just means harmful food. As long as you have a balanced diet, it is already a health diet. The fast food does have some good things such as the cheese, wheat, vegetables, meats and so on. It can save time and I like to have it about once or twice a week. I love China




• Philippines
5 Jul 12
Fast food is delicious but not that good for our body since it contains a lot of unnecessary ingredients that may be harmful. I, myself, used to be fond of eating in fast foods. But it changed when I decided to live a healthier life. I still do eat in fast foods sometimes but I know how to handle maintaining good nutrition.

• Philippines
5 Jul 12
When we are going to the mall we usually eat in a fast food. It really taste good but a littl bit expensive compared to your own way of cooking. Since I love eating at the fast food, I tried several researches on the recipe done by the fast food restaurant. There are some in the net and I tried to cook it. Althoguh there are some differences, you will really never get the same taste as the one in the fast food. Youa re also right the we really need to have more natural food like veggies and fruits but we must be concious also about them, there are fruits that are loaded with pesticides especially the imported once inorder to prevent spoilage.