In serving each other we become free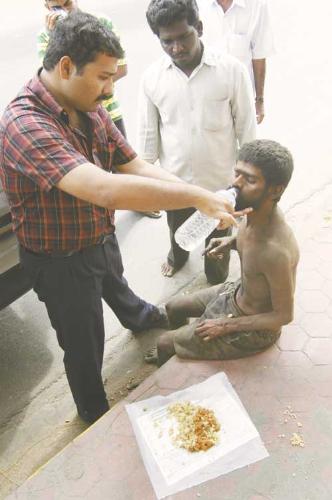 Malaysia
July 23, 2012 7:37am CST
A man who feels nothing ,loves nothing is nothing. For if you love nothing there is no joy in your life. The most meaningful way to create happiness and a sense of purpose in life is to serve each other to the best of our abilities. We need to practise forgiveness, tolerance and reconciliation. Our communities should learn to trust one another and believe in the concept of brotherhood, more as a spiritual rather than a human reality. "The biggest disease today is not leprosy or tuberculosis but rather the feeling of being unwanted, uncared for and deserted by everybody".-Mother Theresa-
4 responses

• Mexico
25 Jul 12
Hi vasu: I agree with you. This is a valuable lesson people should remember. If we concentrate too much on the things we need and our goals we could become selfish and only focus on our things. However, when we find our mission and we help people with our actions we feel more complete as humans. ALVARO

• India
26 Jul 12
You are right starsailover, As human our needs are infinite and should not always focus on it. Ultimate goal of life is to live happy and real happiness is when you left behind selfishness and greed and start sharing love which gives you inner peace and makes you happy.

• India
26 Jul 12
One person cannot do everything alone. He always needs someone to help and guide him. We as human beings always dependent on others to live so definitely we should live together sharing joy and love. Mother Theresa was the great and brave women who teach us how to live together forgetting about jealously and sharing love.

• India
24 Jul 12
Life is a free gift and how we utilise it with is all depend on everyone and all are different. We cannot live the life with a 'to do' list and just live the life as it is and how we want, and make it as it is. Many are choosing their life pattern basically considering their life situations and also influenced by the life circumstances where he is living. We have morethan good enough population around and a fair, not fair, a higher competetion also is in its fullest. So the life qualities are deteriorating and the humanity from the mids of the people are vanishing without even noticed. People's best qualities as man, is gone low as bad and the several social life examples are proving it. People simply forgets everything infront of money, wealth and property. The featues like greed, gelous, proud etc make human being to a cruel creatue and such things are increasing day-by-day.

• United States
24 Jul 12
I believe in your post. We are all confined to others who have a desire to put chains upon us. I have MANY people in my life that I care nothing for, do not wish to know, yet who think they are part of my life. This is true for most people who are social. I have learned one thing, that one must free others wherever you go, to be free from their chains. We do this through honest encouragement and kindness and telling bullies to screw off. This is our duty. There is a good website to go to, and that one is www.thesecret.tv if that one does not work, just do a www.dogpile.com search for the book, "The Secret" and it will take you to the appropriate website. with positive thinking and action, and each person actively looking out for each other in a positive way. In other words, if your friend wishes to play drums, do not make them play the piano. We must learn to never 'know what is best' for another person, instead, help them on their journey, we must never make suggestions, only support them. suggestions only if they are asked for, advice only if asked for.