Friends here, Friends there, and Friends everywhere

Philippines
August 12, 2012 6:33am CST
I was into a handful of site now in my almost five years of the business of earning money thru the internet. I made many friends to each site that I joined. And to my amazement, these friends are also the same friends that I meet in the other sites. Now, I was getting to the conclusion that (same as me), many people are taking the internet business seriously. Had you meet your mylot friends in the other sites too?
11 responses

• Philippines
13 Aug 12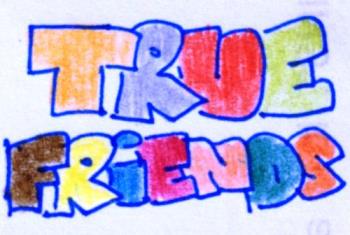 I don't really notice. I guess it's because I don't have a lot of affiliations with other sites. I actually just do Mylot, perhaps it's because I no longer have time to do something else! hehehe.. I am busy with my dayjob and no longer have time to go for other sites. As for friendship, I have gathered friends from the past social networking sites (back when they're not yet that famous). I still talk to them and have actually met them in person. Good luck with the friends. I guess indeed "birds of the same feather flock together" hehe.. Have a great Mylot experience ahead!

• Philippines
13 Aug 12
Hi, maybe I'll try to convince you about similar site which I've been through with the same platform as myLot. Its called postloop.com. Why not check it out and see if you can add one more site which pays you doing the thing you loved most - responding and making discussions. Its harder to be a member there though, but if you take it as a challenge, then surely you'll get approved. I've done the math already and surely, the payout is much bigger and quicker compared to myLot.

• Philippines
13 Aug 12
As a precaution. please do read their FQA as the site have a tricky way of registering members. If you don't got it right, you'll ended up as one of the thousands who get confused during this process. Just remember, registering is different from being approved on this site. But once you get approved, I'm sure you'll spend more time there than here. If I'll do the math, your 7000 points would already reached at least $2,500.

• Philippines
12 Aug 12
hi FT, Actually my referral here I met her at Orkut then she invited me here I have many friends on orkut and we are still friend in facebook too. It's amazing how we continue to interact with each other regardless which site we are going to communicate happy mylotting


• Italy
12 Aug 12
I knew this site just today thanks to a friend I met in Birejji which has got 35 payments here in 6 years so I decided to join because I needed new online earning methods ...

• Philippines
13 Aug 12
I think I knew more than 10 people here whom I also met in other sites. Most of us do use the same pen names to other sites so, I would get surprised if I see the same people whom I already been in contact in the other sites. I guess when it comes to internet we can say that "its really a small world after all".

• Bangladesh
12 Aug 12
Today friends are here and there but tomorrow will not. There is no money actually in internet. Only few experts who know medicine philosophy psychology sports etc earn few dollars a month. But most of them are bartering away their time. Aside from this, people everyday are being trapped by scammers, hackers, cyber stealers. We are here just for some poor or false assurance of money in internet. I think, to pass time for earning internet money is similar to bartering away or to wasting away one's valuable time. We should get real job. Because real life lies in real job. As we are not any creative specialist on any subject so there is no money for us in internet. So, I can mention a profitable job like planting wood tree in abundance. May be you have so much fellow lands where we can plant at least one thousand wood plants. We'll nurse them and fence them. Thus you can find its return after ten years. A man of my locality had planted 5 hundred plants of which price was ten cents each and after ten years he sold his plants 62.5 dollar each. So grand total is 31250 dollar. Now if you plant one thousand plants, you will get 62500 dollars. Now looks like we dont have to work the later lifetime. Take care.

• Italy
12 Aug 12
You are completely right about scams and hackers and I also agree with you! And yes, I always recommend people who want to get good monthly incomes to get a real job because I just can't believe you can become rich with the Internet. You are lucky if you can earn 1$ a day ....

• Philippines
13 Aug 12
Your right that we should get a real job. But earning in the internet simply a means getting more sources of income simply because the "real job" is not enough for us or for the family. Sometimes, one could simply turn to the internet jobs because they can't find a "real jobs". Students engaged to internet simply because their allowances are not enough. There are hundreds more reasons why people do it, but I think no matter what the reasons are, internet is a good source of passive income in today's generation. And for the scam sites, if people are not too greedy enough for high payout, they should know that one should research first on the site they wanted to join before plunging to it.

• India
12 Aug 12
yes. many people have time and they take internet as a means for earning a little more. i am also one among them. good your conclusion is right. good day.



• Italy
12 Aug 12
I am not a rich guy, so I use the Internet to earn some money here and there but use just the services that my trusted friends suggests me and that works with Linux and where I do not need to invest because I hate to!

• Philippines
13 Aug 12
And sometimes these so called "close friends" are the ones inviting you to join other sites which you really registered too simply because you already build trust with each others. Many times, these "close friends" also help you with the basic problems you encountered while joining a site. Thanks for the response guys.

• India
13 Aug 12
I have no mylot friend in other site. Because I Have no account in other site other than gmail and mylot.

• Philippines
19 Aug 12
Well, I recommened that you start exploring other paying sites to and see your earnings go up. I would say that with your experience here, you will surely succeed in other sites too. Maybe you want to explore myLots "make extra money threads" (http://www.mylot.com/w/lists/4_118984/default.aspx) as there are lots of discussions there for other legitimate paying sites. good luck.

• Indonesia
13 Aug 12
Wow! That would be very nice if you can make friends with every site you joined. I don't think that I have met my mylot friends in other sites. Maybe I will try looking at the sites that you mentioned previously and in that way I can also make more money from those sites, lol!

• Philippines
13 Aug 12
Hi, the good thing about these sites is that people are more friendly. Maybe, they should behave since most of these sites will ban them if they don't. I remember triond.com com in which the forum section is not moderated by the owners becomes a "no holds barred" amongst the members. Anyone can bully anyone. Though they are only a handful of them, they're the ones who give that forum a bad name.

• Philippines
12 Aug 12
Can relate so much with your experienced . Internet work or shall we shay , business is rampant nowadays , people are smart making use of time , some even are multi tasking , that's why net could still be part of their daily work. Also we are having same circles of friends that we have from other sites , this is so because we tend to have bond with the people we interact each day and some also we tried to let our friends experience what beautiful things we have , productive things. Friends in need , friends in deed.

• Philippines
14 Aug 12
Yup, your right. As we mature in this new business venture of ours, we encountered new friends. Friends that gives us support, gives us new ways to earn more, and at the same time gives us joy over our stay in the internet. Many are truly helpful and a handful are bullies which we can easily see. But those that are seasoned here, were those who had many friends. Thanks for the comment and happy myLoting.

• Vietnam
12 Aug 12
I haven't met my mylot friends in any other site yet. Because I have been just joint in myLot and haven't been joint in the other site. I don't know about the another site. I just know myLot is a good place to have friends, and we can make money through the response we write. That's awesome. Hey, I want to know you other sites as well. Can you tell me about those sites? Thanks. Have a good day!

• Philippines
12 Aug 12
Here's some of them, you may check them out but be sure to read their FQA before registering. These are all legitimate and I've already earn a decent amount of money from these sites. triond.com wikinut.com expertscolumn.com bukisa.com exposeknowledge.com fiverr.com postloop.com squidoo.com associatedcontent.com helium.com There are other sites out there, and all you need is to have a little research. You may also will learn other sites as you progress here in myLot.

• United States
13 Aug 12
No and I am not one who goes to many other sites. I love mylot so much I really don't need to be any where else. Now,if I could find a site like this and it paid me I wuld try it for one month. but,I really like it here.

• Italy
12 Aug 12
I always wanted to make new friends online because I like that too much! I can ask for opinions when I need to and they chat with me when I am bored! They also give me new online earning methods and something else! But it's also better make real friends which you can go out in the night with! And yes, I meet the same people plus others in every site I join and sometimes also unexpectely!

• Pakistan
12 Aug 12
You are right, every one wana quite this 9 to 5 job of theirs and have a freedom for them self. I also wana quite this job of mine and may be as you said you have five years experience you could guide me how to do this. And as far as your question is concern i haven't met any friends from other site coz i don't have any other sites yet. lol