Will you consider to buy a backup battery for your iPad or tablet?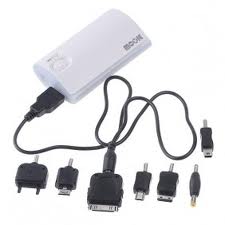 Guangzhou, China
August 28, 2012 9:23pm CST
I haven't bought a backup battery for my tablet yet. Since I can still charge my tablet at home and in the office. However, if I have a travel, then I will consider to buy a backup battery so that I can play it when I am on the way to the destination. At least my trip will not be so boring.
6 responses

• United States
29 Aug 12
I also own an iPad and I think it would be very tricky or not good for the gadget to open it up and change the battery every now and then. I would on the other hand will probably invest in a good portable iPad charger although I have to admit I haven't found any good one yet.

• Indonesia
29 Aug 12
Nah - that's what I've been thinking. It is much easier for you to use protable charger or it is commonly called by Power Bank . I have been using it for my SII - I bought the 4500mAH one and it could charge the phone twice since my phone has 1500mAH battery cell. It quite helps me well whenever I need my phone to be charged (I know smarphone and tablet are having issues about the power lasting which is the biggest disadvantages . lol)


• Davao, Philippines
3 Sep 12
Better to have a back up continues usage. I don't have iPad or Tablet but my mobile phone always I bring a back up specially when I travel more than 4 hours. It's had to communicate your family if you are running out of battery and not possible to recharge while on your trip.





• Indonesia
29 Aug 12
Lol.. I wonder if she / he wrote in a wrong window discussion or just tried to promote the stuffs to all mylotters =D


• China
29 Aug 12
I think it is a good idea to have a backup battery for its convenience to us users while traveling somewhere. This way you can always have something for fun with your ipad or tablet etc. Thanks to the great technology, we are living such a wonderful and enjoyable life than ever before. Take care, youless.

• Canada
29 Aug 12
I would love to know how to load batteries into those things. In which case, I'd get a backup battey for my iPhone and iPod touch in a minute! It would always be nice to ave a backup battery, incase the one I have finally wears out.