Poetry for A Green Beetle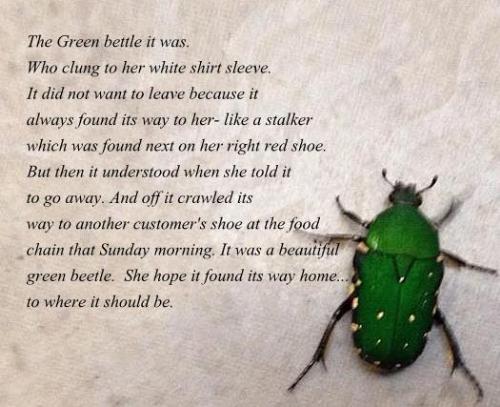 Philippines
September 11, 2012 3:41am CST
Last Sunday I was with friends for our usual t'aichi exercise at the park. When our exercise session was over, we went our separate ways, some went home while I decided to have breakfast at a fast food joint with a friend. We were waiting for our order when suddenly my friend noticed something stuck on the left sleeve of my shirt. It was a green beetle! I shrieked and I got paranoid that it would bite or whatever. My friend tried to get it out of my left sleeve and it dropped on the floor with its abdomen area facing up.

I didn't really want to kill it so I turned it over so it can crawl properly. I went back to talking to my friend. After a while I noticed something ticklish in my right foot area. I didn't realize it had crawled back to my shoe! I had no idea it would come back to me because it was crawling to the opposite direction when I left it. Such a funny beetle! I shrieked again and moved my right foot and the beetle landed near the other table next to this woman's golden sandal. I honestly had no idea where I got that beetle from and I don't remember getting close to a tree back in the park. I uploaded the photo on Facebook and my friend made a poem from it. It must have had a crush on me.

2 responses

• United States
13 Sep 12
I have never been a fan of green beetles and we have all too many of them that come around during late June and early July. We call them Japanese beetles and though they are beautiful, they are also something that is really really creepy to me. The reason that they are creepy to me is that it kind of feels like they are pinching you when they are walking on you. In addition to that, if you do kill one of them they make such a disturbing noise.

• Philippines
19 Sep 12
That pinching feeling must be from the sharp texture of their thin legs. Oh that's sad if they give out a disturbing noise, good thing I hadn't killed one ever.


• Philippines
11 Sep 12
Oh, I guess it has a crush on you

Anyway, the beetle looks cute and not scary. I am not scared of beetle or spiders, but of course on the first glance or when something crawls on me I always thought it's a cockroach that gives me the best scream or jump of my life