Team Phils and Members, Will October Weekeneds Works for You for the Conference?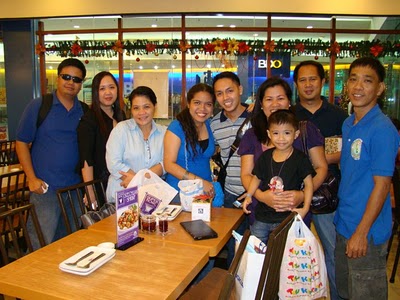 Philippines
September 16, 2012 2:44am CST
I am so happy and glad that I received a lot of private messages not only members coming from the Philippines but also outside the country.And I really appreciate it.Our tentative date for the said event was last week of September, but due to problems of other members in the schedule, we are moving it on October 14, second saturday of October. Do you think this date works for you? This date is still tentative until at least 30 to 50 members agreed on this date. Please mark this date on your calendar. I am telling this to everyone as early as now so we can plan for a for a better to have the best result. I am looking forward to see the faces of the attendees of the first confence. We work it out guys. I have attached the picture of the last conference. I am also looking forward a lot of attendees this time. if you are interested on this event, you can send me a private message together with your name and contact information. see you guys!!
10 responses


• Philippines
16 Sep 12
hello july, You can always meet few mylotters if you are interested whenever you are free.

• Philippines
16 Sep 12
@julyteen
i hope you are still here by the second week of october.actually the initial date of the event is the last week of sept but due schedule problem of the attendees, it was move to second week of October, but this is still tentative. i will be updating everyone for the exact date and time.


• Philippines
16 Sep 12
Hope to see everyone, let's wait for the others to confirm their availabilty



• Philippines
16 Sep 12
i hope second week of october works for them or else i have no choice but to move again. i am really looking forward that this event will push through this time. i know guys, you are all there to support me. i will be leaving my contact information on our page in facebook so they can contact me..

• Philippines
16 Sep 12
yah, that's the best way to inform everyone and make them updated with any progress



• Philippines
16 Sep 12
i will always update them. i hope this will another unforgettable moment for all the members who will be joining us.

• Philippines
16 Sep 12
Let's see hope more attendees will come


• Philippines
16 Sep 12
YAH....and wish there's Mylotter/s from other countries as well


• Philippines
16 Sep 12
@bhayby
i am expecting your presence and jaiho's presence on the said event. i know you will be there to support me. i am also expecting attendees not only from our country but also from other countries. we just have to choose the right time and place.

• Philippines
16 Sep 12
hi there rberon1985. i think the new date works well since it gives members who are interested to join to set their schedules and already include this event in their calendar of activities. i was going to beg-off from the september 29 schedule since it coincides with the wedding of my cousin. plus, it gives the people planning the event more time to plan and map out the details,, such as the location and planned activities, of the get together. cheers and happy mylotting!!!




• Philippines
16 Sep 12
hi allen i am so glad that you are very much interested to see the team. i can see your eagerness to make this event realized. i hope you get to spread this event to your other mylot friends so they can join us on the second week of october. this will be one of the biggest event that will happen in Mylot. we will be talking to other members who can't attend through skype and also members outside the country.

• India
16 Sep 12
wishing the phil mylot conference all success. how do you manage for funds for such activities? are all the members contributing or you get some donations.,

• Philippines
16 Sep 12
I am also looking forward for the success of this conference, how i wish that you can attend this event. we would wish to welcome you. we basically do not have fund on this event,we just contribute and share our happinesss being in the site, how i wish we can ask for donations, if i ask you, would you give us some funds?



.

• Philippines
17 Sep 12
Yeah I want to come, but I guess it's not possible this time. Am trying to think about mylot conference davao-philippines, would you come here?


• Philippines
17 Sep 12
Wow, davao. I have not been there. I wish i can come. if you will choose davao as the next place of the conference, i'm sorry to say that maybe a lot of members can't join especially those who are far from that place, probably what you can do is establish a group in davao then set a meet up. then have plan like having it here in manila for the big event.

• Philippines
17 Sep 12
Wow, a good idea. Maybe I can create a group here, then a big event to be held there! Great idea, I guess I must be looking for discounter fares for that! I hope many Davao myLotters will look for me! Hahaha

• Philippines
17 Sep 12
Why not join us on October 13, probably you can get a discounter fare since you will buy the ticket a month before your flight. so you will have an idea on what to do if you will be conducting events like this. i am really looking fward for your presence on this event.


• Philippines
24 Sep 12
Hoping to see everyone there. I hope I will be available that time. Been looking forward to see fellow myLotters

.

.

• Philippines
24 Sep 12
we are all looking forward for your presence in the event dhangski. i have already added you or reserve you one complimentary ticket.

• Philippines
22 Sep 12
I'll be joining as long as there is no change in our schedule. I would really like to meet our dear Filipino myLotters. Please invite all of them. As of today, September 22, 2012, 02:40:00, we already have 24,813 Filipino members.

• Philippines
23 Sep 12
I've made a new post today, you might one to check. maybe within the week i can already post the final place and programs.hopefully the place works for you at the same with fictorial.

• Lapu-Lapu City, Philippines
17 Sep 12
i will be there with my family, in spirit and via skype. we make the event more meaningful even when we cannot make it there physically. so i suggest again to spare some time for the video conference.

• Philippines
17 Sep 12
I will alloting time for video conference for you and for other members. i hope you get to invite a lot of members from Cebu to join you on the video conference.

• Garden Grove, California
17 Sep 12
hi rberon it sounds like with some help you are getting closer to the conference time. I do wish I had the money to travel from California to the Philippines but sadly I do not but I can read all about it later and wish you all a huge success with lots of fun for everyone,hope some from the US and other countries can come and make it even huger,hugs from hatley ,I will be there in spirit though.




• Philippines
17 Sep 12
We also aspire that you will be here on that special day. if that's happen you will the guest speaker. I want them to be inspired by you. Your age is not a joke to be still expose in the internet. you should be resting by his age and just waiting for your retirement pensions, etc.we would love to see you in skype. i am planning to allot a time for video conference for the benefits of all the members who can't attend the conference just like you, so see you there.