Would You Use an iPhone 5 or Blackberry Without a Data Plan?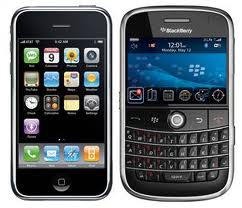 Canada
September 24, 2012 1:37pm CST
There are a lot of high end phone out there like the Apple iPhone 5 and the Blackberry Curve. These phones are rich in features such as being able to use it for e-mail and web browsing. The question is, would you get a phone such as these if you have no intention of using its main features. Do you think it is a waste of money?



10 responses

• Omagh, Northern Ireland
25 Sep 12
It seems to me,if you want the full functionality of these "Look at ME" Phones,you're going to have to pay for it..although there are those prepared to wait until the high cost early adopter 2 year locked in contracts come to an end,and the phones can then be sold on..then,a cheaper plan sim card can be used in the phone..of course,by then,the next big thing has arrived to start it all over again..

• United States
25 Sep 12
I would definitely get an Iphone or a Blackberry if they didn't cost $800 to get without a data plan! You can still use all the apps and 'data' related things when you are on WIFI with them. Most of the time people with data plans try to stick to using WIFI just because of the slow speeds that data plans usually give. Regular non-smart phones don't have the option to connect to WIFI to use things like apps and email. So the answer to your question is both a yes and a no from me. If I could get a BlackBerry or an Iphone without having to spend $800 on the phone then I would. I plan on eventually getting a 2 year contract with a data plan so I can get the Iphone cheap then just stick to calling and texting after the two years since I would still have the phone.

• Philippines
24 Sep 12
I think that if you would be getting a Blackberry nor any Android phone and the iphone, it's best if you get a data plan along with it. Because, those phones were designed to go with a data plan for you to maximize all it's features - internet, email, mms and all the other stuff. If not, it is merely a waste of money, i think.

• Philippines
24 Sep 12
I am not really particular when it comes to cell-phone brands as long as it's an original phone and the brand is trust worthy then i go buy it. Price is also something to consider before i will purchase a cellphone and it's functionality in terms of todays modern communication. But puting it in a communicative context, as long as my cellphone can send and recieve text,calls, and for the new generation... has a wifi capability, then i go with it. Have a nice day!

• Canada
25 Sep 12
We're actually thinking of taking the data plans off of our cell phones, because we can use wifi. I mostly use my phone for phone calls and text messages as well as taking pictures, so while not being able to check email on my phone would be inconvenient, I think I would get used to it.

• United States
26 Sep 12
The idea sounds good in theory but you will not be permitted by your cell phone carrier. As a previous cell phone customer service rep, I know that you may not have a smartphone attached to your line without having a data plan. The only way to remove your data plan is to switch to a non-smart phone. We had customer's that would swear they were not using a smartphone and give us the IMEI to a non-smart phone. This would allow us to remove the data plan but as soon as the system reads the device that is being used on that line, a data plan WILL be automatically added by the system. Another thought on this is that while using picture messaging, a data connection is required. Though the usage is included in your texting feature, the information must be transmitted via a "data" route. For example, if you put a block on your data than picture messages will not be able to pass through. Hope this helps

•
25 Sep 12
They are both highly capable phones. I would make a choice based on carrier. If both of the choices of phones are offered by the same carrier, I would go with cost. Is one of the phones free or at a special discount? At the end of the day, you just want a phone/carrier that won't have you worrying about constantly dropped calls. That would be a waste of money.

• India
25 Sep 12
i would ideally go for iphone 5 with all features and perfect operating system rather than blackberry for the brand name,its unique and its ideally suited for my needs


• China
25 Sep 12
I think all features are useful, even though you don't use some features frequently, but you may have to use them sometimes. I think iPhone 5 and Android phones concentrate many features on one machine, like voice call, video call, e-mail,web browsing, taking photo, video recording, it's more convenient than before when we have to take a phone just for call, take a DC for video recording, take a laptop for e-mail and web browsing, now we only need to carry a phone,which can complete all functions as before. It's a huge improving of technology. I prefer to pay more on such new features. It's very intesting i think if there is a new feature in iPhone.

• Philippines
25 Sep 12
Yes, I would. There's always Wi-Fi and in my kind of work, it pays to be online all the time, even when you're only connection is through Wi-Fi or prepaid data plans. I have a Samsung phone, a K1 tablet and Blackberry Playbook which has proven their usefulness at home. It depends on your type of gadget usage (gamer, app intensive use, e-book reader, etc) and how you fully utilize them. And by the way, it's not just email and web browsing these smart phones are used for. There's Skype, other different messengers, Facebook, video streaming and a whole lot of other reasons why a lot of people are still willing to pay a hefty price for them (both for prepaid and postpaid purposes). It will only be a waste of money if you bought it and didn't know how to maximize its usage.


• Canada
25 Sep 12
Where I live, there are hot spots all around, so if I did not have a data plan, I could use the phone where I go. I do have a small data plan though, because I often use the GPS feature, and sometimes there is no hot spot where I am. In an emergency, I like to be able to figure out where I am.