I need your opinion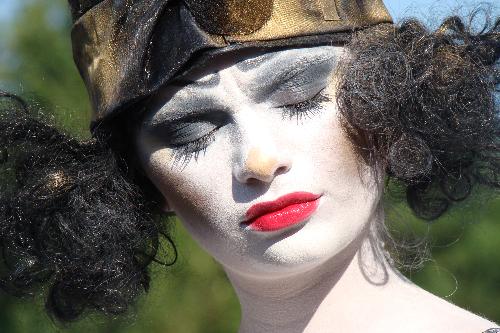 Romania
October 18, 2012 4:05pm CST
a few weeks ago i stared a photography class and now we have homework. i really enjoy this course and hope someday i will i become a great photographer. i just want to post a photo so you can give your opinion and let me know what u think . thank you. ps: this is a portrait photo of an actress from Bucharest/!
4 responses


• Romania
18 Oct 12
yes i deed thake this, it goes well in black and wite as well but i like the colors on this one!

• Indonesia
31 Oct 12
That's a good photo... keep shoot ! :) First time I see this photo work, I think the crop is too tight, and the good creamy background is too little on the composition. That is right when the eyes when we shoot a models are very interesting, but I think the sharp of the skin detail and hair detail in your work are very good, pretty good. :) The lighting, I think this is available light from the sun is too bright, you can use slower speed when capture it. May be if you don't mind, you can share your exit data :)

• Philippines
3 Nov 12
you think that the light is too bright, then why are you advising her to use a slower shutter speed? it will make it more over expose than intended... may be you mean use a faster shutter speed?

• Indonesia
17 Jan 13
I'm sorry Luntian... you are right. I mean the faster speed, or use the little diafragma's opened. :)

• United States
19 Oct 12
I have taught elementary and Middle School students intro to photography. They are all eager to go out and take photos and then come back with poor pictures. What I started is to give them an assignment such as photograph the color red, and every photo must have red in it. It is very interesting to see what they come back with some very interesting photos. Rather than just take photos they are looking to see what will be in the photo and become more creative.

• Philippines
22 Oct 12
the most important thing in portrait photography is the eyes. it shows power to the photographs and also give out emotions. one thing that i have notice in you photograph is that the model closes her eyes... that would be like well ok she close her eyes... but what does the photograph convey? you should think about what is the bigger picture of the composition... does it give emotion or show emotion in the photograph... if the answer is yes, then people can remember your photograph. now this likely would end up at a pile of boxes. second is that you crop the photograph... well she closes her eyes... the thing is when you did this you can't even use the elements of rule-of-thirds. the model is crop away from the power points... you didn't place your model to the power points. when you did this psychologically the brain can't see system or arrangement giving it a confusing effect... honestly i don't get what you are trying to project here. and when the brain starts to get confuse the image has less effect on people and sometimes they even forget it. so how to get around... first is that you have a tight shot so you should consider next time to show the model's eyes. place one of the eyes to the power point to have better arrangement (pleasing to the eyes). the eyes give more emotions than you can possible think of... remember the portrait that was once a front cover of the yellow magazin (NatGeo Magazine) the afghan girl? it's striking because of her beautiful eyes... here is a link http://photography.nationalgeographic.com/photography/photographers/afghan-girl-cover.html second even if you made you model close her eyes but if you didn't made the shot tighter and place her in a power point then you may walk away with it... but really lets face it... she close her eyes... no emotion even given by the model (facial expressions) don't think the editor would be happy. the moment you tighten the shot people will start to look on the face... if we can't see emotions or anything that would be striking enough things will starts to get boring.