How can some one say their child is ugly?

United States
7 responses

• United States
31 Oct 12
Apparently the judge was on the man's side when it came to the ruling. The husband sued his wife because the child didn't look like either one of the parents, yet the wife never cheated on him. The wife neglected to tell her husband that she had plastic surgery. The husband sued because he married some one that she really wasn't. I guess he married her for looks and got the "shaft"!

He ended up winning the case, it happened in China.

• United States
31 Oct 12
I just saw that, that is sad hope he has to pay child support.



• Leon, Mexico
9 Nov 12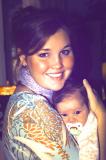 Hello

justme... nice avatar! I think she was being
ironic or sarcastic
but it seems she doesn´t. I think its lack of love. Lack of self love, and if she doesn´t love herself she can´t love no one else more

. Don´t you think so? But now, they have brought a baby to life, and somebody has to look to and guard that innocent angel.
Blessings

justme... dainy

• United States
14 Nov 12
Thank you you 2 its sad a baby will suffer because of its dad,I hope he has to pay child support

• Leon, Mexico
14 Nov 12
Yes justme you are right

! It is the least he can do for his baby, to be responsible. Isn´t it?
Blessings

justme... dainy

• United States
18 Feb 13
Yes I heard about this and it is very sad to say the least, but I tell you now days you have some women that will have someone else child and say that it is theirs. I heard once a woman played like she was pregnant and everything, because her husband wanted a child. She could not have kids, so she took one of her friends kids and played like that child was theirs and after a while she decided to tell him that the kid was not his or hers. I do not agree with the decision, because in all honesty the child more than likely was his, but yeah it is weird what people will do now days. Wow this is craziness though about this case.

• United States
21 Nov 12
First of all is the guy suing insane? Second why sue because it's not the wife's fault how the baby looks. Also this means he doesn't like or love his child for who his child is. When you are a parent you are supposed to have unconditional love meaning no matter what the child looks like or does you love them. This is really sad i agree.

• Philippines
13 Nov 12
Ain't it really stupid to be thinking that way? The man is out of his mind. He is obviously in love with the beauty that he sees and not the real person as it is. Poor man!