Gomez Peer ....??????????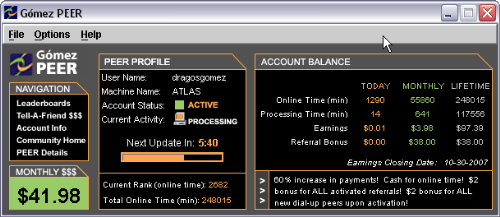 India
November 15, 2012 1:52pm CST
Im wondering whether is gomez peer application does it ever send the account into active status? and if anyone knows about gomez peer please let me know about it. i have downloaded it and its been running on laptop over since more than 7 days... its really making me wait for becoming active. help help help help help...
3 responses

• India
18 Nov 12
gomez peer is distributed testing & resource utilizing system or company. It wont select every one, how much hour you may run your application in a single system .It only selects based on its testing requirement.The tricks to get selected are , install the application in more than 4pc's with your user name registered in it.Try to run the application daily around 12-20hrs in each system, within 2 to 3 selection periods where gomez announces the active peer you will be selected(this may even take more time if your region or place not required for testing by gomez)

• Cambridge, England
15 Nov 12
You may easily have to wait a month or more. It depends on whether they need people with your particular configuration and Internet connection.

• Indonesia
16 Nov 12
what....!! it,s not only few days then you become active my friend. it takes a few month to active it,and you must see the news update in gomez peer. every 2 weeks the activation update in different country.so you must be patient and keep connect gomez peer.