Indian food getting popular day by day

United Arab Emirates
November 25, 2012 10:41am CST
Well,ive been to so many countries and have seen indian food almost every where,there are lots of indian restaurants,Its popular among many people because of its spices and colours,I my self love to eat indian food because its a proper meal with lots of healthy ingredients in it.When it comes to the level of hotness,OMG,its so delicious that i can't keep my self away,Little India in Singapore,Dandenong in Melbourne Australia,These are highly populated areas just because of high demand of Indian food. Do you people also like it?
9 responses

• Japan
25 Nov 12
Welcome to mylot shallo I absolutely agree with you! Me and my hubby loves Indian food specially the kebab and naan bread we do eat at some Indian restaurant here around our area once or twice a month and we always love the food. I am trying to make homemade naan bread but I can't haha?? I tied once but it didn't come out as good as we had from the Indian restaurant haha

• India
25 Nov 12
Happy to hear that you are also like Indian food .

Indian were very fond to eat spicy and chilly food and also Indian food is very heavy to eat but our food is very delicious friend and it is great pleasure to all of Indians that people from other places like our food .


• United States
25 Nov 12
It's possible to make it at home, but there is a special oven called a "tandoor" that gives the best results. Without it, it's very difficult to make it just right! Kudos to you for attempting it though! I used to make my own roti, chapati, paratha, nan...but then I discovered that I can buy them frozen from an Indian market and just fry them in a little bit of oil. :)

• India
25 Nov 12
@habibti320
Great friend you are able to make so much things at home .yes friend "tandoor" is needed to make naan .but you are really good because you make many other dishes




• India
27 Nov 12
Hello Shaloo, Being Indian I can see the kind of likeness people are showing towards Indian food these days cross the globe. we are even aware of the kind of popularity of Indians among other races. the Indians have variety in their own food like their own culture.Every 2km you travel in India you can notice a different taste in food and culture. The spices and the ingredients are rich and add so many varied varied flavors to the food in general. Now it is not that tough for an Indian to survive in a foreign nation since he can easily avail the tasty delicacy from the Indian restaurants. i love to cook myself and have all time experimented with the spices and the ingredients I have at home. It is he taste that actually Attracts Millions toward Indian Food and the Aura seems to have spread quite far.

• Canada
26 Nov 12
I do like few Indian dishes, they are really tasty. However I have stomach problems and I have to stop at few dishes only, but I do love and use in my own dishes some of the spices. I love specially the cumin and turmeric because they have calming properties. I try to add them to almost everything I cook. A little bit of powder goes almost smooth, without my family paying attention to what I have in it. As long as it's a little bit in every dish, they will eat. If tey feel a too strong taste, they will just stop eating. Last time I ate at an Indian restaurant, I ordered an ice cream and I have to admit, it had a real nice, creamy and smooth taste. It was just a little piece, but worth every spoon.

• India
26 Nov 12
Hi friend, I am from India and always like my country food. Good to know that other country people are also like our dishes. Really India is having a variety range of delicious food and you can taste a lot of food in our country.

• United States
25 Nov 12
I'm happy when I see more choices for Indian food! In my city, there are really not enough choices. We can go to lunch buffets and fancy sit-down restaurants, but then we have to pay the price of being in a fancy sit-down restaurant. I live next to the second largest university in America and we have a huge community of South Asian students. Since most of the students are here without their families, they tend to eat out a lot, but can't afford to eat at fancy restaurants all the time. I wish there were more simple Indian fast food restaurants near campus. It'd get a lot of business, since it is more flavorful, interesting, and sometimes more healthy than other options. In the Middle East, it seems easier to get Indian fast food since there are more South Asian workers there.

• Thailand
26 Nov 12
good for this. Indian food is really delicious, with special herbs and spices there in. Yes we have also Indian food. I am not just sure if there is one here in Thailand. I am sure there is in Bangkok.

• India
25 Nov 12
You are right friend their are lot of Indian spicy and chilly food lovers in our whole world and Indian people is famous for this and now in mostly foreign countries we see Indian restaurants because of food lover and we can see many people eating and liking Indian food .

Incredible India


• Mexico
25 Nov 12
We have an indian rest. here in mexico city.. I ate there once a rice with cashew nuts.. its was really good.

• India
25 Nov 12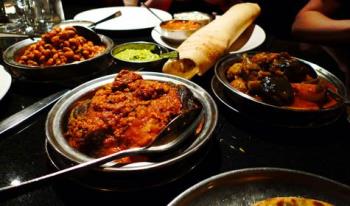 Yeah, Indian food are so spicy and full of taste. Indian spices are popular all over the world I saw it in many travel shows. Every culture of India has different variety of foods Indian food is like a part of Indian culture. Every state every culture in India has their own special dishes. There is so much variety in Indian food. & yeah I just Love it.:D