Ink & Metal

United States
September 5, 2006 12:58am CST
Does anyone have any tattoos or piercings? I have 2 tats, one on my ankle, a georgia peach with a black widow hanging from the leaf & a celticy design with a triquetra in the center on my lower black. I have my tongue & labret pierced
7 responses

• United States
23 Apr 07
i have 6 tats,and am working on a sleeve on the one arm.i add onto it as i have money,each section is like 150-200 dollars.i also have three piercings on each ear.

• United States
21 Nov 06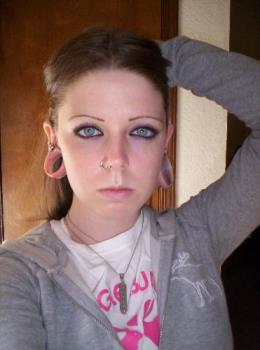 just piercings for now=14 11 in the ears nose and nipples...i love them all and im definitly not done:]

•
21 Nov 06
I have a dolphin in front of the moon on the back of my left shoulder with my sons name and a butterfly on my tummy near my right hip. I want a bear for my younger son sometime when I see the right one. I only have my ears and tummy pierced. Your peach tat sounds cool.

• United States
13 Oct 06
I have two. A design I created on my lower back..kinda hard to describe it. And I have a celtic knot done in a cross on my leg. I want at least 3 more :)

• United States
13 Oct 06
I have 5 tattoos. My first one was a wizard, then I got this big half serpent/half unicorn creature, a pegasus, a tribal sun and my last one was my wedding tat. I want a lot more but our tattoo artist was murdered in August, he was also my husbands best friend!...Piercings, I have my nose, tongue and multiple ear piercings including an Industrial.


• United States
15 Sep 06
You are so awesome! I used to have like 9 piercings. I had my nose, ears, helix, tongue, eyebrow and nipples done but a lot of them I had to take out or fell out because i move around so much in my sleep. I have 2 tattoos, one of the eye of ra and one of an ankh.