What colour (s) go with the stockings?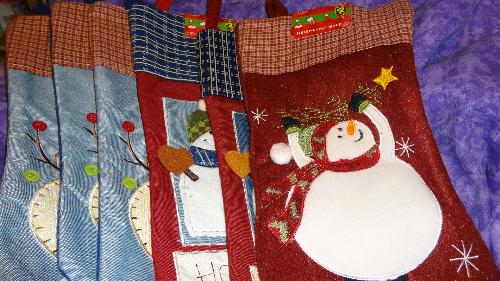 Canada
November 28, 2012 4:45pm CST
I have decided I may just buy some fabric paint and write the brats name on their ctocking this year. I looked on Walmart.ca to see the price of them but they arnt sold online, and only in store. I have to volunteer tomorrow so I may swing by Walmart (so I can get it over and done with off my to do list on my days off. I have takena picture of the stockings and attached them, and I am horrible at picking a colour that looks good.
6 responses

• United States
28 Nov 12
They are cute! I think on the last 3 which are more blue, I would just use blue fabric paint. The first 3 seem to have (although I can't tell on the 2nd one) have some gold on them, so maybe I'd use gold on those. Even just red on the first 3 would look cute. Can you use some glitter too or would that fall off too much.

• United States
28 Nov 12
Good choice! Everyone here agree's on Gold and Silver which was what you were thinking anyways. See, you don't need us.


• United States
29 Nov 12
Silver and green are my favorite Christmas colours myself. Green to represent the tree and silver to represent silver bells, another icon of Christmas. I personally think gold is a bit flashy but it's your decision haha. You seem set on gold and silver either way. ;)


• United States
28 Nov 12
Silver and gold are classic Christmas colors. I would say that getting fabric glitter pens in those colors would fit with the holiday. I would say that my cats agree, but one is on the bed, one is busy grooming and the youngest just interrupted my response to this discussion saying that she was "starving."


• United States
29 Nov 12
With the variety of color with the stockings, you could use White or white on the darker ones and Red for the lighter ones. Depends on how you want them to be. Uniform to be the same or no.