I have begun!

United States
December 29, 2012 12:55pm CST
Its a few days before the New Year and rather than make a resolution to lose weight, I am just going to do it. I have a plan in my mind that will include a couple of small treats a day. I think the reason I keep failing is that I try to cut out all the things I love and then get mad and stuff myself with them. Im going to eat low sugar more natural foods for the most part, but a couple times a day Im going to allow a small serving of something I like. I am also going to use myfitnesspal to keep track of my calories and carbs intake. Im going to try to keep them under a certain amount. So... here goes.... First day is off to a great start!
11 responses

• United States
29 Dec 12
"...[B]ut a couple times a day Im going to allow a small serving of something I like." And the rest of the time? You should only be eating things that you enjoy. If you aren't, you are just another person on some sort of crash diet that will ultimately crash and burn. Healthy eating should be for a lifetime... and it should not be done in a manner where you are eating things you don't like just because you think they are good for you. Slowly shift from however you have been eating into a permanent, healthier way of eating. Try things such as not keeping refined sugar in the house but, instead, keeping natural sweeteners such as honey and maple syrup on hand. Choose whole wheat over things made with white flour. Choose fish over red meat, or even go plant-based. Food should be joyous.


• United States
30 Dec 12
I meant extras like chocolate or cheetos or something that shouldnt be indulged in all of the time. There is nothing wrong with natural foods. They are actually quite tasty. Still, there are just sometimes you need a bit of a treat. I work as a CNA so whatever little treat I have will be burned off over the course of the day.

• United States
29 Dec 12
Okay... and that dropped the "B" and bolded the whole comment. Definitely not what I'd intended.



• Japan
29 Dec 12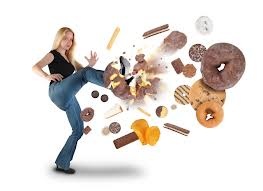 I am planning after holiday since I can't stop eating when I see delicious food haha I've been on losing weight tho I used to weight 140lbs what I did is used myfitness pal app to track my calories intake and more on fruits,cereal,veggies,lean meat and vitamin water during exercise. I don't skip any meal and I don't eat lot of sweet. Before the holiday I weight 115lbs and gained 2 lbs from eating a lot since December 21 but since holiday is almost over I am giving my self a threat haha so I will start again after holiday?? first week of January

• United States
30 Dec 12
Sounds like you are doing great. I have to laugh though because the weight you were before is the weight plus a bit Id like to be now. lol. I have a big frame so 115 Id look really sick. I love myfitnesspal. Its an awesome program and it works without making you feel all deprived.

• Japan
30 Dec 12
Yea it's awesome I am not even deprived with any good when I was starting to shred some weight. I just feel really fat after eating all the holiday food and all these sweet food??

• Jamaica
30 Dec 12
Whta is myfitnesspal? I have regained 12 pounds frim I came home and have to lose the weight. Not good for my heart at all


• United States
30 Dec 12
myfitnesspal is a website that collects information and gives you a calorie and exercise counter to keep you in the losing groove. Ive used it before and lost 25 lbs but then lost my job and life caught up with me. lol.

• Puerto Rico
30 Dec 12
What I do to maintain my weight is drink lemon water at least three glasses a day. I also put lemon in my cup of hot tea instead of sugar or milk. I also try to walk as much as possible. I have a pedometer that counts my steps for the day. We should be taking at least 10,000 steps a day. That is alot but definitely can be accomplished. My steps for yesterday were 7,855 which was great but I want to get to 10,000 a day. Good luck in losing weight just do it in a healthy way and you will get there. Happy New Year!

• United States
30 Dec 12
I love lemon water and drink a lot of it at work. I already get more than 10,000 steps a day. I work as a CNA so exercise and hard work are already a part of my day. Its what I eat that keeps me fat.

•
30 Dec 12
You will only achieve your goal if you really want to do. A forced start date tends not to work. I gave up smoking in July - I woke up one morning and decided and realised that i didn't really want to smoke anymore

• United States
30 Dec 12
I agree. This is why I am starting now and not waiting until the new year like so many others are. The holidays I overindulge on are over and now its time to git er done!

• United States
30 Dec 12
I have been so good on my diet this past year but not for these past few weeks before Christmas. I enjoyed all those Christmas baked goodies. Oh well. Today I walked two miles and biked one mile. I am back exercising and cutting back on the carbs and sweets. My New Years Resolution is to got on a diet and exercise for the next 11 months. I know I will be able to stick to my healthy eating lifestyle up until the Christmas holidays. So, here goes for the next 11 months!!! :)

• United States
30 Dec 12
It is so hard to be good during the month of December. Im not sure why that is but it seems to be the same story for most folks. lol. Good luck with your plan! Ill be toughing it out right along with you.

• India
18 Jan 13
Hi i hope you maintained your weight.I simply lost it gained some weight which is bad. I eat lot of sweets which i think helped me in gaining weight. I should start working on loosing it from now.

• United States
29 Dec 12
When I was losing weight I would cut back on portion sizes of my food, especially take out and fast food or not eat much of that at all. Then I would allow myself to eat a treat maybe three times or less a week like chocolate or one cookie. You don't need anymore than three bites of a treat to feel satisfied, eat slower and you will see. I ate alot of apples and other fruits. I think eating butter and coconut oil will help suppress the diet somewhat in moderation of the two taken that is. Drink low fat milk, low sugar orange juice, just check the labels and take in less sugar. Don't forget the protein though otherwise your body will take it from your bones. Excersize at least 40 minutes a day. I tried to do all of this and also counted calories of only 1200 per day (I'm 5'4" tall and my goal was to be about 120 pounds, it took me 6 months but I did it). Also the heavier you are the easier it will actually be to loose some weight faster and usually the first 10 pounds are water. Good luck with it all.

• United States
30 Dec 12
This is very similar to my food plan. As for exercise its going to be just work for now. I am VERY active as a CNA so I have no worries there. lol. And I am usually out and about running around on my days off. Unless I am home writing like I am now.

• Mexico
29 Dec 12
good idea there, to be healthy. Try drinking lots of water, and walking. My sister did that for 2 months in las vegas. She lost 20 lbs. that way. She still ate. Good luck to you there..

• United States
30 Dec 12
I have been drinking a lot more water. And as for walking, I do that and a lot more at work. I walk anywhere from 2-3 miles a day and thats not including all the bending, lifting and whatnot I have to do to take care of the peoples.

• Philippines
29 Dec 12
Wow! Good for you. I am also dieting but my diet was ruined last Christmas Eve. All of our food is mouth watering and all my family are eating so I was not able to help it and overate. What I did was I exercised 1 hour before sleeping then woke up the next day and exercised again. I feel like the oatmeal I ate for a week was useless because of eating too many fried food, desserts and cheese.:(

• United States
30 Dec 12
It is ok to indulge once in awhile. Its not like very many of us eat like we do on the holidays. I do have to wonder though, what makes us so out of control on these days... What is so different? Its not like there wont be left overs to enjoy the next day... lol..


• United States
30 Dec 12
I am trying not to think of this as a diet. A diet indicates deprivation and a short term solution. I dont want to gain it back once its gone so, its a life change. And so far so good!