Which one was your favorite movie in 2012 and why ?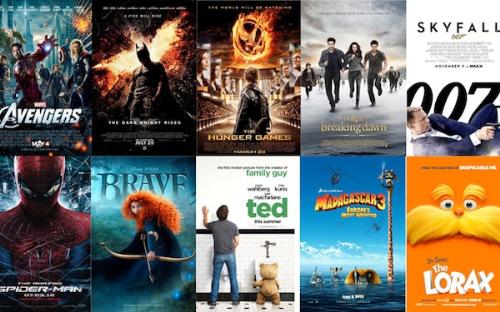 India
3 responses

• Saudi Arabia
22 Feb 13
it took me a lot of time digging through all the movies in 2012... 'cos really I'm not so particular of the year it's released. but here it is in no particular order. - looper - silver linings playbook - argo - zero dark thirty - the best exotic marigold hotel - where do we go now? - safety not guaranteed - ruby sparks - the impossible

• Philippines
31 Dec 12
there are a lot of movies i really liked this year. "the perks of being a wallflower" is one. haven't really seen "the hobbit" yet. avengers is great. and of course, the dark knight.

• United States
31 Dec 12
Okay, I have four because it was so hard for me to choose between them, so here are my favorite films for 2012: 1. The Hunger Games: I loved the books, and the film was actually quite good. Jennifer Lawrence and Josh Hutchinson all did an amazing job in this film. Also, Liam Hemsworth is hot. 2. Marvel's The Avengers: You know you are a geek or a nerd if you thought that the super-heroic men in movie were hotter than the men in Magic Mike. Chris Hemsworth, who is Liam's older brother, is in this film, and I thought that he, and the other actors, Robert Downey Jr., Chris Evans, Mark Ruffalo, Jeremy Renner, and Tom Hiddleston were all amazing in this film. This movie was so much fun to watch. 3. Amazing Spider-Man: Andrew Garfield and Emma Stone were amazing in this film, and their chemistry was so awesome. Also, the way Peter Parker/Spider-Man revealed his secret identity to Gwen Stacy was so cool. That is one of the coolest ways to reveal your secret identity to your girlfriend. If you are going to reveal your secret identity, be creative about it. Also, the scenes with The Lizard had me on the edge of my seat. Another fun film to watch. 4. Les Miserable: This film was worth it! The singing was amazing, the acting was great, and the emotion in the film felt so raw and real. It was such a great movie. I highly recommend this one to anyone who has not seen it yet. This movie was so great that my mother actually wants to buy it when it comes out on DVD.