50 Shades of.... Chicken?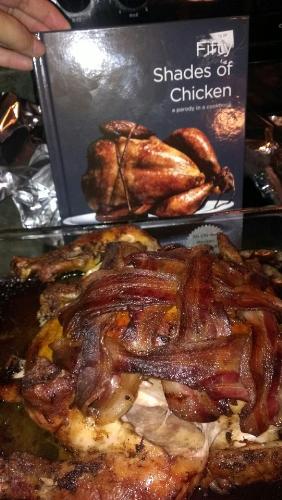 United States
January 11, 2013 3:11pm CST
Okay, so who else has this cook book? I read the series of Gray and received the cookbook as a gift for Christmas. I haven't had a chance to actually read the book, but I did make my first recipe from the book. Hello Chicken Lardon! A roasted chicken, oiled and season, and wrapped in bacon? Yes please. It was FANTASTIC. Not only was the recipe easy to follow, but the seasonings were normal, things you would have around the house. After 2 hours in the oven, wrapped in bacony goodness, out came my dinner. Add roasted potatoes, green beans and italian bread. Dinner was fantastic and a crowd pleaser. Excellent recipe, I cannot wait to try more. Have you made anything yummy lately? I am always on the search for new recipes.
3 responses

• Philippines
12 Jan 13
I have not read the book yet -- but I am more excited about your recipe

Roasted chicken is one of my favorites. It sounds heaven if it is wrapped with bacon. Now why haven't I thought of that before? My latest is oven-roasted pork ribs, marinated with stuff I just found in our kitchen. Now I'm hungry.

• United States
14 Jan 13
The easiest way for me to tell you is this: take your chicken, rub it in olive oil, rub it with spices: sweet paprika, salt, pepper, and the zest of an orange. Quarter the orange and stuff it inside the chicken. Bake your chicken, when you have about half an hour left, take it out and criss-cross your bacon- about 6-8 pieces. Voila.. It was so great. Your ribs sound good too! I've been making my own BBQ sauce, hello! I am spoiled by it!

• India
12 Jan 13
wow that is something nice. I love chicken and I wish to have those recipes as well. I am going to buy an oven soon so it will be great idea to have the book with me. It is always good to try out new things. Thanks for sharing and have a wonderful day ahead.


• United States
14 Jan 13
The book really has some great recipes.

• India
18 Jan 13
Hi riya I never heard about 50 shades of chicken . yes the book will be very helpful .But is it available online? need to search for it . I like to try new dishes too.

• United States
12 Jan 13
My daughter had yet to read 50 Shades of Grey but she's so excited to do so. If she is this excited for the trilogy I will assume that she will want this book. She's been getting more into experimenting with recipes and things of that nature.

• United States
14 Jan 13
The recipe book follows along with the story, it is quite amusing, this was only the first recipe I've tried, but I plan to do one a week, so stay tuned for my next update :)