Wonderful Day... all of a sudden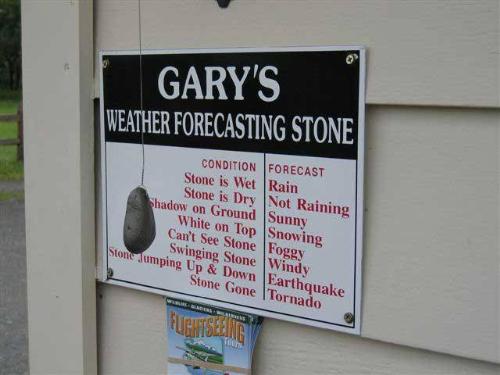 Thailand
February 3, 2013 2:17am CST
Have you been in this situation? A wonderful day, birds chirping, sun is up.. perfeeeeeeect to meet someone in the cafe... Yeessss...this could be my man... Wear lipstick... put on sexiest dress... wear stiletto shoes... Hair is done... blow dry here.. blow dry there.. wow.. perfeeeeeect.. just like the one in the shampoo commercial... make up done! mascara...i almost forgot... done... Get out of the car.. the open parking lot is full so no choice but to take the one farther... it is sunny anyway, just perfect... when all of a sudden... without...much.. heavy rain begin to pour... you get all wet and your mascara . argh smudge all over!!! hair! argh!!! like you were the phantom of the opera no no..Sadako in the movie "the ring" So to solve this untoward incident you must have this weather forecaster, so you would know what the weather it is going to be when you go out again. A cool weather forecasting device. in fact you can read your own and make your own weather device system. [b] Note: By the way I want to thank Free Funny Fix. com for providing me the photo:. http://www.freefunnypixs.com/funny-signs.php lol http://www.freefunnypixs.com/funny-signs.php [/b]
7 responses

• Perth, Australia
9 Oct 18
@Mavic123456
I don't recall being in a situation just like that but it reminded me of yesterday's weather here. It was sunny and warm all day then all of a sudden, an unexpected storm came out of nowhere!

Bi-polar weather man!

• Thailand
10 Oct 18
hahaha.. isn't it amazing, in a tropical place it is always like this, it's been raining for a day or two, and forecast said it is going to rain still. so people excitedly wear their favorite sweat shirt that has not been used for a long time... all of a sudden the sun will shine the best at it can.. too bad they don't wear anything under the sweat shirt. LOL

• Thailand
10 Oct 18
@VivaLaDani13
Yes, that's the problem but you have no problem with weather in Australia right, you know if it is hot it is hot... and in the evening cold.

• Perth, Australia
10 Oct 18
@Mavic123456
haha oh! I have actually done this A LOT!




• United States
3 Feb 13
Mavic, first, no one will look at the picture. Second, you will be accused of posting a copyrighted picture by the one person who does look at it. Third, rude, nasty tags will be given to your discussion. Then an attempt will be made to insult your intelligence. Which, considering the sources, will be impossible if not improbable. But all that aside, I appreciate your sense of humor in the midst of all the over-reacting that's being done elsewhere. And did you know they do make waterproof mascara? Just FYI.

By the way, do you know where I can purchase one of these really cool, nifty weather stations?


• Thailand
3 Feb 13
lol. Firstly it is not a station. it is just a board and a piece of hanging stone. You can do it and put anything you want there. Secondly... yes people are not wearing no waterproof mascara these days... LOL. (whisper to you... even men) Thirdly, i am ready for highly intelligent responses... Fourthly.. Shot me please..... Miss Deazil good morning... Nelerkz.. you are back... welcome back.


• Philippines
24 Feb 13
hi, that was really funny,actually it happen to me but that was not make ups,i mean clothes,its a wonderful day during that time because it was really cold and of course i wore clothes for cold weather and rainy,when i was in travel and suddenly the sun shined and the weather became hot,oh my i almost sweats because of my clothes.

• Thailand
24 Feb 13
ewwww i can imagine totally a turn off and embarrassment. LOL

• India
3 Feb 13
Here weather forecasting is so poor, if they say rainy foul weather, you must stepout, it is surely fine pleasant weather, the reverse is equally true.

• Thailand
3 Feb 13
hello Ma'am Kalyn, hows professor? Yes, you should have that weather forecast system I posted, so you will have a accurate weather reading.

• India
4 Feb 13
India's situation will remain bad as always..there's no changing it..

• Thailand
3 Feb 13
** you should have seen the weather forecast photo, I mean.



• Thailand
3 Feb 13
Exact time... I just woke up from the afternoon nap.. so good morning. hahaha yes, this is very romantic wheeeee heeeeee... have you seen the photo? it can tell you what the weather is.. you can make your own there in Romania.


• Philippines
3 Feb 13
What a missed, but anyway next time you must be prepared with your umbrella I have done it on my way to the airport the rain started to fall slowly to the ground so what I did I brought with me my old umbrella, reaching the airport I give it to the guard for it is not allowed inside.

• Thailand
3 Feb 13
hahaha the story was a bit funny though, Teo. you should have seen the photo, that one is the most accurate weather forecasting system I can recommend to you.