Snow, snow go away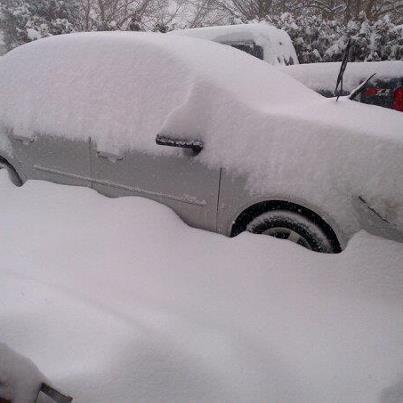 Canada
February 8, 2013 9:10am CST
I woke up to a large amount of snow, it came faster than they expected (supposeable we got about double the city did) - and they are the ones that are whining. It is still coming down as well, we shovelled the driveway, and all the cars off. By the time we got it done, they were covered again. Meanwhile, my lazy brother sits inside and does nothing. I can't wait until he actually has to do something in life, and a rude awakening it will be. He keeps saying he is going out today with friends, well he can't drive (considering the 3 accidents he has already had), so I hope he goes out, and has fun with it, he has already totaled 2 of my parents vehicles, and under their insurance so their insurance will continue to climb. My Dad said he isn't allowed going out, but my brother with his attitude said too bad he is going out (be pretty funny). I work at 4pm, my new boss called and said if I don't feel comfortable driving just let him know and he can change the times. So we will see how my day job goes on how this afternoon job goes. I may ahve to shovel out my car again by that time, and they plowed our road 3 times already and doesn't look it (surprised they even did that).
9 responses

• Mexico
8 Feb 13
Here its rain, rain go somewhere else. I understand what you are going through there. Have a great weekend there.

• Legaspi, Philippines
8 Feb 13
I live in a country where there is no snow and most of us are dreaming of going on a country where there is one. There are even malls in our country creating fake snow to attract more customers to come to their stores. Yes, it might sound a burden on your part but I think it will just pass. Hopefully can visit your country one day to experience also how it is to stay in a place with snow. Have a nice day!

• United States
8 Feb 13
We're supposed to get snow on Monday but we never get more than a foot of it at the most. I might use it as an excuse to go buy that super cute snow suit I saw on clearance for my daughter...

It's really nice that your boss is willing to let you rearrange your schedule if you're not comfortable coming in to work. I've had a few that would always put the bottom line before employee safety and would probably write you up if you were late or called in because the weather was that bad. Your brother, though... oh, boy. He's going to get a really rude awakening when he finds himself out in the real world and realizes things don't revolve around him after all.


• Canada
8 Feb 13
We were dumped on last night too with snow, and its still comming down hard. The school buses were cancelled for my children's school. They still went because they walk to school but now we are regretting sending them because the storm has gotten worse now and it has only been as hour. I have to be at work at 2pm and don't drive so that will be fun trying to get there. I am so ready to have spring already.... enough snow!!!!

• Philippines
8 Feb 13
You are in a cool country so stay cool everything will be okay just give them time to accomplish their job and as I noticed the way you explained to us, I am sure good riddance is with you for even your boss was lenient in offering his assistant.

• United States
8 Feb 13
It's pretty to look at, but glad it's not down here.

• Romania
9 Feb 13
I like only the day it snowed, after a while everything gets dirty ..i hope spring will come sooner...i don't hate snow but i like flowers very much and i love too see the yard full of flowers and grass.

• Sri Lanka
9 Feb 13
Here in Sri Lanka we don't have snow. Our people love to see snow. but it seems your people hate snows... :D.

• St. Catharines, Ontario
8 Feb 13
It still hadn't started to snow when I went to bed last night, but this morning when Harmony woke me about 7:00 it looked like it was foggy out. I guess it was the snow but I didn't have my glasses on and soon went back to sleep. When I did get up at 8:30, yup, there was lots of snow out there. And silly Harmony wanted to go out in it! After brekky and checking my email, the brain fog rolled in, so I laid down on the couch and fell back asleep. And guess what I dreamt of? Snow! This storm is everywhere! I'm not sure if it's still snowing, or it's just blowing about the stuff that's already fallen, but I'm not going out until it settles down. Good luck getting to work. And your brother!

He
should be digging out the driveway all by himself, after what he's done to the chairs and the injury it caused your father.