eat pizza every day .... makes me happy ....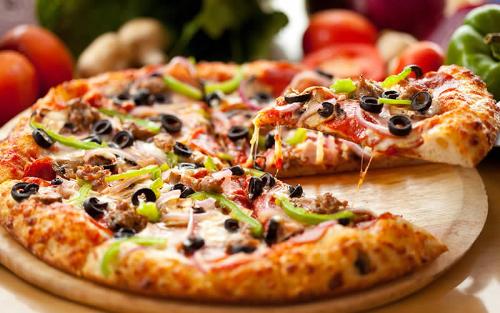 Indonesia
February 18, 2013 5:19am CST
I eat rice better than eating pizza. Because in addition to its round shape like a dish, it's also very tasty. If I do not eat in a day-I might starve disease. For me it is better not to smoke than not makn pizza a day. Because pizza is making myself comfortable in this life. What is your story about pizza?
6 responses

• United States
22 Mar 13
my story of pizza? we loved pizza at our house, all variations of pizza: Pizza on eggplant, pizza on english muffins, pizza on tortillas, pizza on pizza dough. all kinds of pizza! I am a vegan now and make delicious pizza using Tofurky veggie italian sausage, dough, vegan cheese (don't gag, some of this is really good, you just need to get a good brand), I love to make vegan pizza! Try it, but only with Tofurky italian sausage. even if you do not care for it, it's good to know in case you have a vegetarian friend over for pizza parties!

• Philippines
5 Mar 13
Wow I want pizza everyday too. That would be really nice, to eat pizza everyday. I love pizzas no matter what the flavors are. But they're too special because they're not cheap.

• United States
24 Feb 13
I'd have to say pizza is my favorite food. Lot of things you can do with it, althou with sausage and pepperoni is the absolute best. I am having trouble these days tho, finding a good pizza place. The sauce is always weird and they dont' put much in the way of toppings. 3 inches from the outer crust is nothing but crust and some sauce and you don't get to the toppings until three inches in! That is how they do it now. I didn't pay, nor do I want 3 inches of crust to go with my pizza! and the cheese...they are always light on the cheese. And the sauces is often weird or to sweet I have been working to make my own at home... finally learned to use just plain old tomatoe sauce with some added seasonings...from McCormick...Italian, basil, oregano and let it simmer slowly for about 15 minutes. I also found to use my bread machine to make the crust, and it is good, but missing a flavor. It tastes just like bread...good, but I want pizza dough flavor and can't figure how to get that. Then I add my own pepperoni and my own breakfast style sausage...and add a little seasonings to that too as it is cooking. Then I bake the crust to light brown (on a sheet) then take it off the sheet, add all toppings and back in the oven to warm everythign to gether and further brown the crust. Works great! Tastes great too! I make the crusts and make them 8"in size and freeze them. That way, when I want pizza, I just take on out and add and instant pizza!!!!

• Philippines
1 Mar 13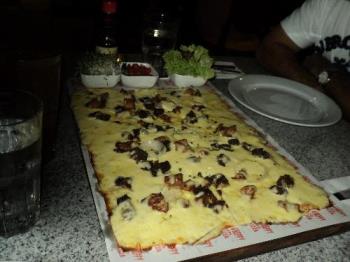 Oh be careful. You might end up obese or unhealthy if you eat pizza every day, unless of course you eat the healthy kind of pizza. I know that pizza is one of the most delightful food ever invented but it is not good to eat this every day. Pizza is salty and fatty so if eaten every day, it won't really be good on your body. It is okay if you eat it once in a while only, otherwise, look for a healthier kind of pizza.

When I go out with my family or friends, we sometimes order pizza but I make sure I don't eat much because I know it is not really a healthy food. AT home, I make my own pizza but this is a healthy version. I use whole wheat bread as crust and my toppings are all vegetables and fruits with some cheese.



• India
18 Feb 13
Thanks a ton for sharing this discussion. Well that is great to hear about your love for pizzas and i think u should not have it on a daily basis since it is a junk food and might affect your health also. but as u said it is far more better than smoking that is a silent killer. I have never tasted pizza to be very honest. he he he. What say?

•
22 Feb 13
i like pizza, but in indonesia pizza is expensive food. i eat 3 pizza 3 times a week