OHhh it must be cold down there

Thailand
February 18, 2013 5:44am CST
Yes, the hairs or feathery hairs on the crab's arms are covered with colonies of bacteria. Disgusting… yes it is disgusting for us but these bacteria are delicacies and main course of the crab. Would you care to eat some steamed yeti crab how about yeti crab with coconut milk (spicy)? Mmmmm now I am salivating. Got to go and grab some crabs here.. http://www.itsnature.org/wp-content/uploads/2010/01/yeti-crab.jpg http://mccrabass.files.wordpress.com/2012/01/a-yeti-crab.png … Have a great day.
4 responses

• Perth, Australia
20 Oct 18
@Mavic123456

No thank you

I hate seafood but not only that, anything with more than 4 legs just creep me out. So crabs are in that category.



• Thailand
24 Oct 18
hahaha seriously? but this one is so goooooooood.. . I love seafood. I love the taste of the meat. but here it is quite super expensive

• Perth, Australia
24 Oct 18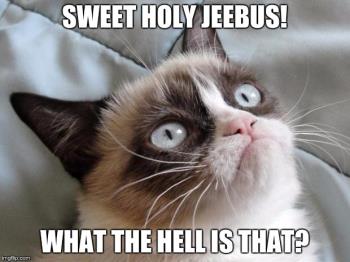 • Cambridge, England
18 Feb 13
I notice that the photos you are posting are nearly all copyright material. It is NOT permissible to post copyright photos AT ALL ... please read the Guidelines! Stating where you found the photo does NOT absolve you. Using a photo without permission is an abuse and could lead to prosecution (of both you and MyLot).


• Cambridge, England
18 Feb 13
I was sure that you were posting them 'with the best of intentions'. However, we do NOT want MyLot to be involved in expensive copyright infringement claims (which would, of course, be reflected in our earnings!) I suggest that you go through the photos you have posted NOW and ask Admin to remove all of those that you haven't taken yourself (I notice that a couple, at least, of moths/butterflies appear to be your own photos). There is no need to deactivate your account! Just make sure that you understand and follow the rules! If a photo is published somewhere on the Internet, you should assume that it is copyright unless it specifically says otherwise. Even then, it is wise to give proper attribution to the owner, not just to the website you found it on.


• Thailand
18 Feb 13
Verna, Owlwings warned me about my posting... see below, I might deactivate my account after I take my last pay here in mylot. Thanks and enjoy the discussion.. who knows, this might be deleted. sorry verna.. if all my discussions with photos will be deleted.

• India
18 Feb 13
It must be tasting yummy. Crabs are my all time favourite. But never heard about Yeti crabs. Thanks for providing information. Enjoy your crabs..

• Indonesia
18 Feb 13
It's better if you have hair like that.We cut any hair is better That would make us uncomfortable

• Thailand
18 Feb 13
hahaha yes, crabs are one of favorites too.. you are welcome... thanks for appreciating it. M_hizam_adyaksa: hehehe... I am not sure if these crabs are endangered or extinct.