Can you make a living from internet

Bulgaria
February 27, 2013 3:27am CST
Hi dear myloters! I was wondering is it possible to earn good money from internet? Which sites do you use? what do you do to make a good amount of money ? I am new at this and I have used PTC sites but i didn't earn a dime from them. So some tips and tricks from people who have expiriance with adding money to their budget would be very helpful.
10 responses

• Pune, India
6 Mar 13
Hi, many of our mylot friends are making good money by using internet. there are many adds for the online earning sites. I am working only one site i.e. mylot. But you can try and earn money from many sites.

• Romania
2 Mar 13
Hi miryanag, i think you can make a living, there are many people who live only writing articles, doing freelance and so on.You could make your own blog or website or write good aricles for legit websites like shvoong, bubblews or mylot.If you're active and follow the rules your earnings will grow.

• Indonesia
7 Mar 13
so far I'm not make a good stable earning from internet. I start learning about business online in 2010, so I guess two years is good time for me to learn anything.I never tired to learn how to make my earning getting better and better. may be I'm not living from internet now, but I always hope I could leave from working offline to working online

• Legaspi, Philippines
27 Feb 13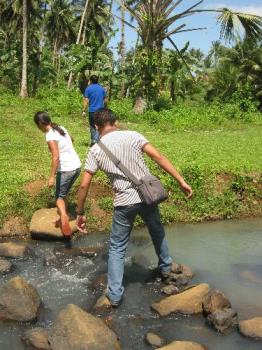 Hi miryanag! I would suggest that you try writing. For me this is one of the best way of making a stable income from online source. There are several writing sites available which you can start with. Mylot is great place and I'm sure you will learn lots of things from this place. Have a great day!

• Legaspi, Philippines
27 Feb 13
I'm sorry for the picture. I attached it on my started discussion but I don't know why it appeared here.

• Philippines
27 Feb 13
Hi ! The answer is all in your hands. Money depends in your hands . If you work hard , be sincere , active , determined in internet works then surely you will make a living here but if you come here only when you like it then what to expect but a less earnings. As the experts of Mylot says..You type , you earn !

• India
27 Feb 13
You have good command over English.This shows that you could earn by writing small or big articles in writing sites.There are many sites available on internet which pay for writing articles.Some of the sites are given on my blog.You can visit their and join what ever site you like.They are few but legit.

• India
27 Feb 13
Making a living is kinda difficult. But yeah, suppose if you own a website or a blog that has millions of visitors everyday and you update your blogs very often with rich contents then maybe its possible. Some people actually do. Some even have online stores so they sell lots of stuff and make huge profits from the internet. So yes it is possible to make a living from the internet. I personally haven't but hope so I do one fine day.

• Philippines
28 Feb 13
Mylot is one of the great sites where you can earn a few dollars in a month. But if you want to earn more than that, try checking on odesk and freelancer. They offer loots of jobs that is updated daily. You can surely find one that will compliment your skills and work experience.


• Philippines
27 Feb 13
It is possible to earn good amount of money with online job. I personally know someone who has an account with Odesk. He is a five star contractor in that site since he is already getting projects from clients for 2 straight years already. He is earning so much with that site. He has a wife and a kid and Odesk is the source of their living. He already hired five people to help him with his projects. Actually he is not doing much help anymore to his staff. He just get projects and give them to his staff while he just oversees them doing the work. I used to work for him for two months as an SEO article writer. Now, I do not work for him anymore since I decided to try my luck to get projects on my own. Luckily, I got a project as a virtual assistant. I may say the income that I get from my project augment my finances. As long as you have patience and skills you can really earn good money here.