Rediscovered beauty secret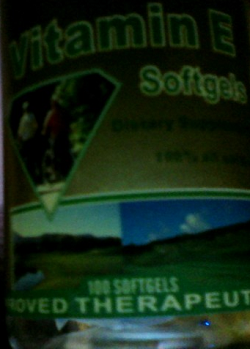 Philippines
March 6, 2013 2:53pm CST
Recently my skin and lip got a bit dry, I think it's from the cold weather last month. I have tried a lot of moisturizing cream but sadly it did not worked. As I was taking my vitamin E, I remembered that I used to put the oil on my face as a moisturizer. So, I popped a vitamin E gel and lather the oil onto my skin. I've done this before I go to sleep. The next day I was surprised that my skin got better, no more dry patches. I also lather some on my lips and it did help. My lips are still dry but not as dry as before. I am really happy that I rediscovered this beauty regimen, I do this religiously so I can prevent further drying of my skin. Mylot friends, share your rediscovered beauty secrets or better, share your beauty regime that you swear works. So that everyone will be as beautiful as you are.
4 responses

• Indonesia
16 Mar 13
Usually found on the skin color of the elbow, knees, and ankles will be rough and a little black. To eliminate friends can try to lemon water, so that the skin will become friends again and free from soft black leather. Way Mix 1 tablespoon of lemon juice with 1 egg, take the yellow only, then add 1 tablespoon of olive oil and honey. Apply on the skin dry and dull. Let stand for 10 minutes and rinse with cold water.

• Philippines
16 Mar 13
Oh will try this one. Will this also work for dry flaking elbows? I have very dry elbows, I am not sure how it got so dry and there are a lot of "chicken skin" like appearance on my elbow. i have tried my Vitamin E trick but it did not work. Any more suggestions?

• Philippines
8 Mar 13
Using vitamin E on the skin? I used to do that but I mix the gel to my moisturizing cream before applying on my skin. Yes, it has good effects on the skin. Nevertheless, for me the best way to moisturize skin is to start from within. Drinking lots of water and a diet rich in Vitamin E and C help the skin helps to maintain skin elasticity.



• United States
8 Mar 13
I haven't really discovered any beauty secret as of late. Yours is something that I haven't tried and I only heard about this now. I am now wanting to try this. Maybe on my next shopping trip I will make sure to stop by the Vitamin E gel and see if it will also do wonders on my skin.

• United States
6 Mar 13
I am going to get some of those gels. I have dry skin and some patches that break out when I am stressed out. I will see if they help me out.