Do you enjoy Horse racing?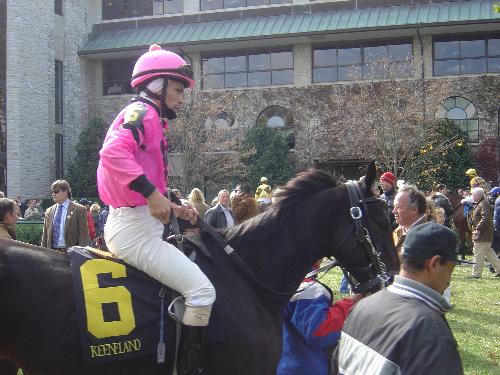 United States
9 responses

• Canada
24 Nov 06
I think it is really cruel do whack horses with the whip. The poor horses usually break legs and have respitory problems. I love horses and Barrel Racing but this type of racing is horrible

• United States
5 Dec 06
I agree. I go to the races often but never bet for that very reason.

• United States
8 Feb 08
Actually, racing doesn't break legs any more than stepping in holes while lose in a pasture, getting tangled in jumps, on any other horse sport you can think of. And racing isn't the only horse event that uses whips. Rodeos use spurs, which are actually more painful for a horse than a whip is. Maybe you should get your facts straight. The truth is you don't even have to hit a horse with the whip, if you just wave it around the horse will run from it. If you brush something across a horse's rump - just BRUSH it across rather than hit - a horse will run from that because it's their instinct to run from a potential attack from behind by a preditor. All grazing animals are prey for carnivores. Again, LEARN something about animal behavior instead of making assumptions, because you know what they say about the word ASSuME!

• Hartford, Connecticut
2 Nov 08
I love it for the sport! I have been a horse racing fan since I was a kid and read all the Black stallion books. that got me interested.. then I just started following it and studying and reading. My all time fave horse had to be Seattle Slew.. and for years I would (well I can't say Bet-cause I ususally didn't..) but pick horses based on if they were sired by slew or if Chris McCarron was riding.. and generally following those 2 rules first, my picks were almost always in the money. now it's a little harder. No Chris and the Slew line is not so pure..

• Australia
1 Nov 08
I love the sport, but I also enjoy the gambling aspect. There is nothing like the thrill of watching a great horse race. In Australia we are blessed to have three races that attract some of the best British, Irish, and European horses, the Caulfield Cup (mile and a half), the Melbourne Cup (2 miles) and the best WFA race in the world, the W S Cox Plate (10 furlongs), ll run within 2 weeks of each other. And some of our horses in recent years have made successful raids on major English races, and in Dubai and Asia. The Americans have got their priorities wrong lol. Nest Tuesday is the running of the Melbourne Cup, which is so big that many businesses in Melbourne, where it is run, take the day off. And the Americans are having an election? Hah! Lash


• India
22 Feb 08
Yes, Of course ! I am saying this because I am a Vet working for a Stud farm and we breed Throughbreds and sell them to various Owners who in turn race them at various centres. Our stock is basically sold with good price if own stallion perform well on the track ! So to be in touch with day today racing activities, it becomes mandatory for me to be in touch with racing on day to day basis! This I dothrough internet. I do get results and videoclips from various centres from various sites and by going through these informations i keep myself updated. Since we are in the game we need to keep track of our competetors. Thus my interest in racing is more of professional type rather than enjoying the sport! for that matter I hardly bet or gamble on horses! Of course I spend a small amount to back our horses if I ever go to race course to attend any race! Well let me add here to my friends information that racing is a professional sport and the risks involved in this sport is same as in any other sport.There is no unnecessary whipping as is commonly believed. whipping is goverened by some rules made by respective clubs and every care is being taken to prevent the cruelty against horses! Horse racing is practised under strict rules and regulations and if any foul play is found then the trainer and the jockey is punished by the club and in some cases even their licences can get cancelled! Thus to sum up I say the horse racing is also like any sport and betting iss part and parcel of the sport where from Government generates a handsome revenue! Thanks friend for initiating such a nice discussion, I loved participating in it!

• United States
17 Feb 08
I enjoy it solely for the sport. I work in horse racing industry. I work with race horses as a licensed groom. I love my job because I get to work with horses everyday all day long. My favorite part of the day is race day. I love taking horses to the paddock and cheering them to the finish line.

• India
5 Dec 06
i dont gamble over horses but love it as the sport...not only the races, i love horses otherwise also

• Singapore
5 Dec 06
I have never bet on a horse before but it looks very exciting if you are betting on the winning horse yea lol

• India
29 Nov 06
I have not atytended any races but I love horse riding as a sport.I learned it for a while.Next year I am putting my son in to one of the coaching centres for that.