DNC Chair, whines that people will starve on 6 figure salaries!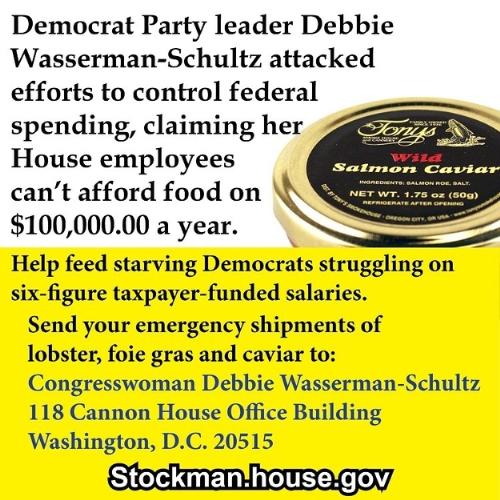 United States
March 26, 2013 10:13am CST
This is NOT The Onion. This crazy, high-ranking, Democrat moron actually claimed that her staffers, most of whom earn over $100,000/year, are going to starve because food in the Capital Building's cafeteria is too expensive. "Just to clarify: An 8-ounce bowl of Ham and Bean soup at the Cannon Office Building's carry-out café costs $2. A gourmet wrap or sliced bread sandwich sells for about $5. And in the Longworth Building's sit-down cafeteria, a serving of stuffed chicken, asparagus and mashed potatoes sells for about $7," http://www.washingtontimes.com/news/2013/mar/22/debbie-wasserman-schultz-sequester-nearly-starving/ If that's the case, I guess those of us making under $60,000 must be eating out of dumpsters right? Nobody could possibly afford a meal that costs $2-$7. That's ridiculous. Don't worry though. One republican, Steve Stockman of Texas, has already put out a request for people to donate emergency shipments of "lobster, foie gras, and caviar" so her staff doesn't starve.
8 responses

• United States
27 Mar 13
Debbie can shake her greasy head over a hot stove and fry them all some eggs. The poor, poor dears! Whatever will they do? Once again Debbie proves just how stupid she and B.O. are.

• United States
27 Mar 13
You people just don't understand these people are members of the ruling class and deserve special privileges. You can't expect them to go out in public and rub elbows with the working class of this country. These are the people who know what is best for everyone. Maybe we should all give up more so that they could have the meals for free, after all they are the ruling class.

• United States
26 Mar 13
OH that's hilarious. I give up on these people. Talk about being out of touch with the real folks. I can only salute and say pffft!!!





• United States
26 Mar 13
I love history. I read it, watch documentaries on it. I am a nerd, I know. But one thing I can do because I have read so much, watched so much about history, is I can see paralles between now and 'then'. It really IS A TRUISM that those who do not study history are doomed to repeat it. When the rulers think themselves above the suffering of the ruled over..tyranny is on the doorstep. Read up on the French Revolution. When the government thinks it knows best and the people are told they cannot possibly know what is good for themselves, we've pretty much lost liberty. We have a 'ruling elite' whether we like it or not.


• United States
27 Mar 13
I heard something about this and had to think 'how thoroughly ridiculous!' Good grief! The Bible talks about people coming down to earth.. I can really understand why!