Have you checked out IWA? Seems interesting...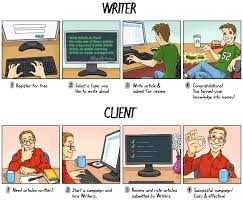 India
April 2, 2013 4:28am CST
25 cents for a 30 word post. Or 2$ for a 300 word post. I signed up and did a few tasks which were simple enough. I found it hard to restricts my posts to 30 words, not that there is a upper limit. I was willingly writing more. From the microworkers stable, this one is bound to be a hit. I treat it as paid to post forum where you get paid better than most. Your take...?
7 responses


• India
2 Apr 13
I am confident this is genuine because it is from the MW stable. MW has been solid all these years.


• Legaspi, Philippines
3 Apr 13
I am a member of the site but I don't have any other earning yet aside from the 3 dollars sign up bonus. I already completed two tasks but until now those were under pending review. I do not know the reason.

• India
4 Apr 13
I signed up in 2010 Mar. I got no bonus. I wrote 5 articles 3 days back. two have been rated. You should go check your acct for latest updates.

• India
9 Apr 13
Hi I visited your profile and was happy to see that you have figured out the blogspot html trick to create content, pics and videos on mylot profile page. Makes it interesting to be able to express yourself. This is one feature that sets mylot apart from other sites.

• Legaspi, Philippines
9 Apr 13
Courtesy of blogspot. I don't know about html but as the saying goes, there are many ways of killing the cat. I learn these things from myLot. Have a nice day!

• Philippines
3 Apr 13
wow thanks for the info! I want to give it a try... since I really need extra income. God bless you more!

• Philippines
2 Apr 13
hi there!

I've been a member of IWA and have written some few articles too but haven't reached their minimum payout yet. Have you reached yours? Were you paid by them already? I've read that we can't cash out the $3 sign up bonus as it is only for our own campaigns. Can't find enough time to do some writing tasks but I like their way,it is almost just like MW.


• India
2 Apr 13
started yesterday and am waiting to see how my work is rated first. I see it is easy to reach payment in two days. I am also looking at starting my campaigns because article marketing will be in demand soon where short articles will flood the market in the future and I want to have my collection of short articles. MW is about tasks that had a few articles. But this is only articles and that too short articles. That is what makes it very attractive to those who want to make some money quickly.

• India
3 Apr 13
I navigated the site and also visited their FB page. They started in 2009 and then went idle before re-starting in Feb this year. Now they seem to have hit a minor roadblock as a lot of articles submitted bu members have not been reviewed and there is delay in payments. I also saw there are no increase in the the no.of jobs available. I think that is because IWA is not posting jobs, it is the free campaigns that are being started by members with the bonus 3$. I believe they will sort out their issues and start posting jobs and making payments. I feel the conecept is a very good idea and unlikely to fail "30 word articles for 25 cents" will attract a lot of writers. If they can manage to outsource writing jobs then the others including mylot will have to wake up and start taking notice. All depends on the success of A-market

• India
2 Apr 13
Hi fannekhan I am pretty happy with my lot and it's the best site that pay better than any other site. My full concentration is on my lot and also where is the time to write on so many sites. Select one site and write there, that's my motto.

• India
2 Apr 13
It is good that you are happy here, please continue to post here. But why don't you look at 25 cents for a 30 word post, now that is a very good rate and the payout is at 5$ and not 10$.You can reach payout in a day or two. Since you have no time then why are you using your time to earn 2 cents when you can earn 25 cents for the same effort. That is if you are keen to make some money by posting on line.

• Philippines
3 Apr 13
Hi fannekhan. It's been a long time since I last worked for a client on Freelancing sites since the pay is very low ($1 to $2.50 per 500 to 1000 word count). I like iWriter's rate but the minimum cash out is high. I have to write 7 more articles. How can you be paid on IWA? I've just signed up yesterday and did 2 tasks. It's 30 and 50 word count requirement but I exceeded it to 500 words. Lols. I can't really express myself with 30 words. I checked my account few hours ago and there's no increase on my earnings. There's not much topic to write about and the instructions are very general and not that clear compared to iWriter. I've seen cash out proof from other people but I wonder how long should I wait to get paid? Thank you in advance.


• India
3 Apr 13
I ended up writing a 500 word post too, when the requirement was just 30 words. Funny, because when I see the need is a 500 word article I groan and do it unwillingly. I think therein lies the strength or weakness of most writers. No one likes to write lengthy articles because we all know very few people read lengthy articles. IWA is quiet and people have not been paid for some time now. You go to their FB page, you will know. I hope they sort out their issues soon. Five of my posts lie unmolested for 3 days now.


• Singapore
2 Apr 13
Hi Fannekhan, I have an account there, but do not do much writing there. Sometimes when I can write longer than 30 words, I just write more and post in Bubblews under my own name. i do not submit the content to earn just 25 cents, since I can get more that than in Bubblews. If I stop about 40 words, probably I just submit in IWA for 25 cents.

• India
2 Apr 13
That is not a bad idea at all provided you are writing for some request at iwa