Animal Strangeness

United States
April 4, 2013 3:46pm CST
I've seen a lot of things lately online and on TV of animals of different kinds bonding, or helping each other. Like a dog nursing kittens, or a dog mothering a fawn. It's really cool. Do you have any stories like that? Today when I let Annabelle (my chihuahua) outside to run around she saw a squirrel. She went right up to it and sniffed it's tail, just like a dog would do to another dog. Then she and the squirrel faced each other and got nose to nose. Then the squirrel ran off, and Annabelle followed. When the squirrel started up a telephone pole Annabelle had to wait on the ground. The squirrel turned back around and hopped off the pole. Then it started chasing Annabelle, and Annabelle in turn was chasing it. And the strangest of everything was when the squirrel went under a car, Annabelle went under too, and they sat side by side for a whole minute. I wouldn't have believed it had I not seen it. It was just incredible. And yes, you guys, this was a squirrel. I'm not mistaking it for a really scrawny and funny looking cat.

10 responses

• United States
5 Apr 13
That's just such a cute story along with a few others here. I could read this stuff all day and just plain get a kick out of it. I don't have anything to add though, darn it. I only see this stuff online or on tv. The other day on tv I just saw a cat taking a dog for a walk on a leash...hysterical. If the dog stopped or slowed up a little the cat would tug on the leash. It just amazed me...might be on youtube also..don't know.


• United States
5 Apr 13
I was watching an interview on ESPN one time, and they were talking to a professional baseball player. They asked him for stories about his pet monkey. It was well known he had one. He said they had a really crazy situation one time because the monkey went outside and opened the gate for the dog. He's sitting at his kitchen table when in the corner of his eye he sees something streaking along the front walk. He goes to the window, and it's the dog running around with the monkey on its back. He chased the dog with the monkey down the street before he caught them.

• United States
4 Apr 13
Aww, I would have loved to have seen that.

• Jamaica
4 Apr 13
This is a lovely tale of friendship and yes, it does happen. My sister had an African Grey parrot called Gonzo and he had the freedom of the house really. She also had two big retriever dogs who were gorgeous. Now the parrot would fly down and sit on their heads and they didn't mind at all. But she really terrorised them if she started barking like a dog. Now that made them very confused. She would perch on one of their noses and start barking and they would go frantic looking for the dog. Funniest thing out

• Canada
4 Apr 13
That's too cute! Gonzo must have had a pretty convincing "bark"!


• United States
5 Apr 13
That's so sweet! It reminds me of a Mynah bird my grandmother had who would drive their dog, Corky, absolutely bonkers by calling him all the time. The bird would whistle, say "Corky! Come here, boy! Corky!" and whistle again. The dog would run all over the place looking for who was calling him. Poor thing, never did figure it out.



• Marikina, Philippines
18 Apr 13
Animals are so innocent. They do not care if they have different breeds or what. It is a natural feelings of love in animals unlike humans who think first before they make a first move. It is so sweet when squirrel and chihuahua become friends inspite of their differences. He he he


• Lippstadt, Germany
7 Apr 13
oh dear Ambie that must have been really cute to watch.......How is the weather where you are hope its getting nice and warm. Its still quite cold over here we never had it as cold as this in April, at least I cant remember.....

• United States
4 Apr 13
lol good one Pam! Every since I was young my mom has always kept 2 chihuahuas and they are just the funniest things. One of the chihuahuas (Takita)slept in my room and the other (ToyBoy) slept in my brothers room. We would keep both of our doors closed during certain parts of the day so they wouldn't make a mess. But in the mornings when it was time for them to go outside in the morning, whichever ever dog would get out first would open the door for the other. It's the cutest thing.

• United States
5 Apr 13
Now would we accuse you of mistaking a squirrel for a really scrawny and funny looking cat?!

Speaking of cats.. it would be a miracle if my dog and cat, three years now acquainted, would get along half so well as your little dog and the neighborhood squirrel!

What a fun thing for you to be able to watch!!

A blessing I'd have to say..

• Canada
4 Apr 13
That's awesome, absolutely adorable. When I still lived at home we had a miniature schnauzer, and she was such a chicken! She wouldn't go up to anything, she would just run away. She did get nose to nose with a deer once that was in the backyard, but she chickened out and ran away after a few seconds.


• Shingle Springs, California
6 Apr 13
Honestly, the first thing that crossed my mind was rabies. Is Annabelle current on her shots?

• India
5 Apr 13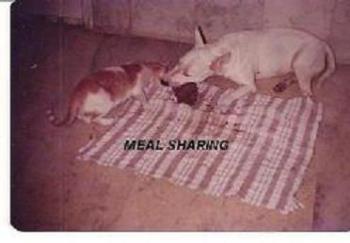 I have scores of stories about my pets, specially the relationship between our bull terrier (Rana) and Kittie our cat. Bull terriers are supposed to be terrors but our Rana had a wonderful relationship with this cat. She would clean him up after his bath. They would share the same bed, they were even seen sharing some food together Kittie wanted Rana around when it was time for her to litter. He would sit patiently watching and then pick up the kittens one by one and clean them. They would be seen in the garden together and after Rana did his job she would cover it with soil. Cats do that when they do the job but I never saw the cat covering what a dog did.