Bought Some Decent Bedding - For Once!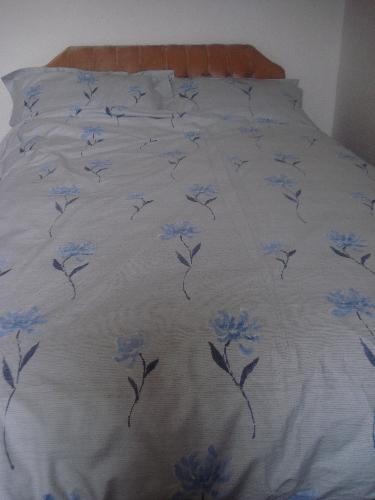 Carlisle, England
April 8, 2013 9:30am CST
As you know I'm not very good at buying clothes - especially for myself - so it's natural for me to be more at home buying stuff er...for the home. I did buy myself a new nightshirt though, from M&S and the colours on it (blue) gave me inspiration for my current choice of bedding. In the past I bought some red berry bedding from NEXT online and I really should have sent it back as it feels like sandpaper against the skin. It was made in Bangladesh so I should imagine environmental concerns with dyes aren't that strict over there than - say - Europe, which is why I've bought some HOTEL bedding from T K Maxx, noticing that it was made in Portugal. 'That'll do for me,' I thought. It has a 200 thread count and had the words 'cotton percale' written on the packaging, suggesting that the material would be soft to the touch. It is, actually, rather like a decent shirt. Creased up when new but when ironed - brilliant. I couldn't get the centre crease out but I'm not that obsessed with ironing, so you will have to 'make do' lol. Hope you like it. It looks like it's reversible too and it has an all-over, subtle design in a grey-blue on the back. So, if I get bored I can always turn it over!
10 responses

• United States
9 Apr 13
Hi Janey The beauty of "sand paper sheets" is when people come to visit and overstay their welcome, it's time to change the bed. After a couple of nights sleeping on sand paper should do the trick and send them packing..I'm just saying!!

• Philippines
9 Apr 13
When I was still working, my obsession was buying beddings and curtains. I just feel like my home is a lot nicer to stay with right after a day's work if my bedroom really looks comfortable and refreshing.

• Carlisle, England
9 Apr 13
Yes, I do know what you mean. Last night I felt so rotten, you know? But, as soon as I got into bed, that was it. 'Snug as a bug in a rug' as they say, lol. Pity the cat has taken a liking to the pillow, in particular. Even she knows quality when she sees it!


• Philippines
9 Apr 13
I envy your new set of beddings ! it is really so nice to sleep in a new cotton beddings , feeling is great ! So nice to be in contact with your skin. Feeling cool and fresh than to be sleeping in old beddings where in we can feel some itchy things.

• Carlisle, England
9 Apr 13
I know what you mean about feeling itchy..and that was from NEW with my previous bedding. I really should've sent it back. Anyway, this new set makes up for that. I can swap it with some other bedding I've had a while but is still OK..but I can't wait until I can buy some more, preferably online this time as there are plenty of bargains to be had!


• Philippines
9 Apr 13
Hi Janer1966. Good for you you bought a good bedding. Being comfortable while you are sleeping is a very good way start your day. You'll feel relaxed every time wake and it will affect you all day long.

• Carlisle, England
9 Apr 13
Hello there! It's amazing how poor quality bedding can affect my sleep. I do have some that makes my skin itch. Whether it's something to do with the dyes used I don't know..but it's horrible! Anyway, no such problems with my new set and I had a great sleep last night!


• Philippines
9 Apr 13
that's great, It is not always the bed make feel us comfortable the appearance, it's textures and softness. Most of a time it is on the bedding sheet that makes you comfortable.

• Carlisle, England
9 Apr 13
Yes, I did buy a mattress protector a few weeks ago and that's helped regarding comfort, as the mattress itself is old but I cannot afford to have it replaced. I do know that sheets vary in quality as well and my next one will be better than the ones I have at the moment, that's for sure!


• Garden Grove, California
9 Apr 13
hi Janey I like your choice and itsa

really pretty gentle not overpowering print. I am not one for huge blooms on things,. I hope its really soft too as I like my bedding to be super soft. When I was moved to an room as my roomie had shingles someone put a sheet on my bed that felt like sandpaper when you lay down on it, I asked for another sheet as I just could not sleep on it. I was do glad when my roomie got out of quarantine and I could move back into my own room again,.My bed there had old but soft sheets on it. I think housekeeping staff do not realize that if the bedding is r ugh against your skin its really uncomfortable to sleep on. or worse yet thewy simply do not c are. ugh.



• Shingle Springs, California
8 Apr 13
Looks nice, and reminds me of something funny. My first apartment with R, I bought some bedding with a floral motif. His mother came over, horrors, floral bedding when a guy will be sleeping there? Oh no! lol

• Carlisle, England
8 Apr 13
Haha! Very good!

To be honest, I'm not normally a floral motif kinda person (I despise big blooms on wallpaper, for example, although I don't mind the all-over subtle designs) but the last two lots of bedding have been plain. The floral motif has definitely brightened the cover up..and, like I said, I can always turn it round if it gets on my nerves!


• India
9 Apr 13
I hope you can now cover it and wrap it up with ease and it looks quite decent comparing to other ones




• Carlisle, England
9 Apr 13
It's more decent than the NEXT bedding, that's for sure. I had a great sleep last night!


• United States
8 Apr 13
That's really cool you got something comfortable and reversible (kind of.) Your bedding should always be to your liking, never settle for less since you have to sleep in it.

• Carlisle, England
8 Apr 13
The bedding was greatly reduced which (generally) means better quality. However, the so-called designer bedding has silly prices just because it has a celebs name like Kylie on it lol.