I did it, I got my BA in Psychology. I did it all online via Ashford University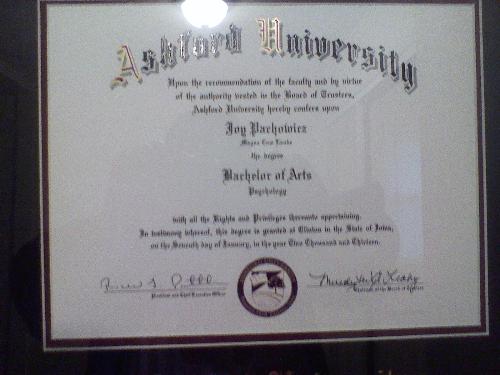 United States
April 12, 2013 2:53pm CST
Well I did it. I finished the BA .in Psychology. I know. .there is still the Masters and if I am ambitious the Doctorate.. Right now am just ready for a little break. It was quite a challenge doing school while attending to legal issues and appearing in court and working p/t etc etc. But with the grace of God I did it ..Yay . Have you finished your studies? IF so, what is your degree in ? Are you still studying?
4 responses

• Valdosta, Georgia
12 Apr 13
I never heard of this program before so I looked into it. It all sounded good until the admissions counselor told me I would need to take out some student loans to pay back after I graduated. NO THANKS! I was hoping to just get financial aid, but he said that would not cover all of it... Congrats to you for finishing!! That is awesome. =)

• United States
12 Apr 13
I had financial aid for all of college some yes..has to be paid back.that is with any college..and some not.. depends on how much you have to take care of on your own..like children..bills etc. .more bills and expenses more help you get ;)

• Atlantic City, New Jersey
12 Apr 13
CONGRATS!! That is quite an accomplishment and you definitely should be proud. Come from someone who took classes online I know the self discipline it takes to succeed and actually finish a degree that way. Again CONGRATS!! now you should celebrate a bit!

• United States
12 Apr 13
yea i do plan to.. I and a friend are going for a little outing to the mountains for a little r & r.. wont be like a full blown vacation but at least I will be a couple days away from the daily routine ..


• United States
12 Apr 13
Congratulations on your accomplishment. I have a bachelor's degree (from Brigham Young University-Idaho) and two Master's degrees in Early Childhood Education from Walden University. It was difficult for me, but it is worth it. Now if I can find work in my field I will be a very happy camper. Will you go on for your Master's degree?

• Philippines
14 Apr 13
Finished with my studies but still learning to lessons of life. I am awfully interested in an online course but there are pros and cons to it. I don't know whether I do need some schooling late in my life but as of now, I enjoy working and living at what stage I am in. I love school but sometimes things don't sway on what you want.