Curious about fleas...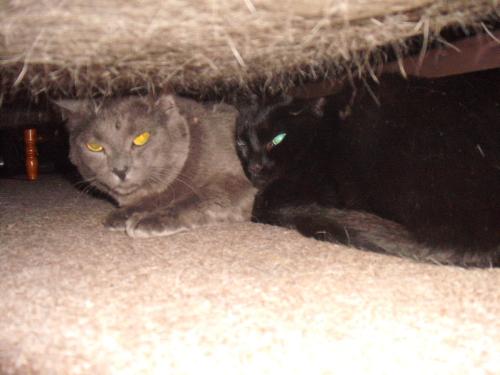 United States
April 13, 2013 9:00am CST
I have two cats that never go outside so I'm wondering is it possible for them to get fleas? Sometimes when I'm patting them I feel something under their fur and of course I have to check it out. It turns out...I think..to be little scabs from them fighting sometimes. They seem to just be having fun when they fight but I'm really not sure. Sometimes they seem really mad and other times they just roll around swinging at each other then walk away. If you have more than one cat do they play playfully or are they serious in trying to hurt the other one? Can cats get fleas even indoors?
7 responses

• Canada
13 Apr 13
I think so, but I do know cats are territorial and fight. We had a cat and now I see fleas dropping about and being cat fleas they do not affect me and I really cleaned the house to get rid of them. I always just had one cat,so do not know your situation. I think they are fighting. Are they both males, both females, or one male and one female? If they are both males or both females, then they would get into fights.

• Canada
18 Apr 13
That helps a lot. Do you have a lot of trouble with them marking their territory in the house? I think that once we had a male cat - when I was younger, and it did that.

• United States
13 Apr 13
Yes, unfortunately, they can get fleas. I know you'd think they couldn't because they don't go outside but they can. Some people bring the fleas in on their pants or socks, etc. Fleas can live for a very, very, very long time without nourishment and can attach themselves to leaves, twigs, grass, etc. All they need is a chance and they'll take it. As far as the fighting, my two female cats fought because one was dominant and the other a bit more passive, even though she was bigger. They were both sisters. The worst fighting I saw was when another cat came onto my patio and my cats would see them through the patio door. Then they went into their combat zone...didn't recogize anyone including me, lol! That's when they would really end up fighting each other even though they were the only two in the room. Crazy, really crazy.

• United Kingdom
13 Apr 13
My ex and I had four cats, all of which went out, we had a brother and sister and two others, the female was very aggressive and she used to pick on Edward, the tabby who was overweight, mind you he did keep stealing her food, even so she took a dislike to him, she wasn't at all close to her brother who spent most of his life outdoors. The littlest one she was a right terror she had no fear in her whatsoever and even though she was by far the youngest she would have a go at any of the cats! Cats can still get fleas even though they don't go out, sadly.

• United States
22 Apr 13
could be skin allergies too.my calico picks at herself sometimes. but to answer your question-yes it's possible-if someone else brings them in. my husband's friend brought them in twice from his cats-and to say i was angry was an understatement.i ended up footing the bill for flea treatments.

i told him his friend was gonna be confined to the front porch if he didn't treat his own cats.

• United States
13 Apr 13
Like honor00 said, indoor cats can get fleas, but you'll know it if they get infested. Incessant scratching, avoiding carpeted areas, not to mention you will probably get flea bites too. You can also see fleas crawling around on your cats' bellies. My indoor cats got infested once and again like honor00 suggested, I went the Frontline route. It used to be available only at vets, but you can get it 'over-the-counter' now. After about three months, the fleas and their eggs were gone. That has been several years ago, and *knocking on wood*, the cats and me have stayed blissfully flea-free.

•
13 Apr 13
You are asking two things. Yes it's possible for wholly indoor cats to get fleas. Fleas are so small, but crafty and tricky too, they hop onto anything passing, until a host appears then BINGO! The itchy little critters live passively for weeks, so a human visitor could have brought them in. Get some 'Frontline', it's a gel you apply to the back of the neck once a month, the gel kills eggs; that's how I treat mine. Cats play with each other, sometimes visciously, but no blood or injuries, a favourite game here is a vigorous game of bat round the door, very noisy with lots of growls and miows, but no injury.

• Canada
16 Apr 13
It is possible, in a sense. I have never had fleas, and I hope I don't. But if say you go outside and a flea can live on your clothes, then jump to animals, or say you touch an animal infected. I always love when people bring their animals into work, adn say my dog has fleas. Iam like seriously are you that stupid, they can live on my clothes, or even the rug and infest my animals, other animals that come into work, or humans than their animals. It could be dry skin as well, many mistake it as fleas, and wonder why the fleas treatments don't work. Scratching dry skin can cause scabs, and marks.