Jealous cat?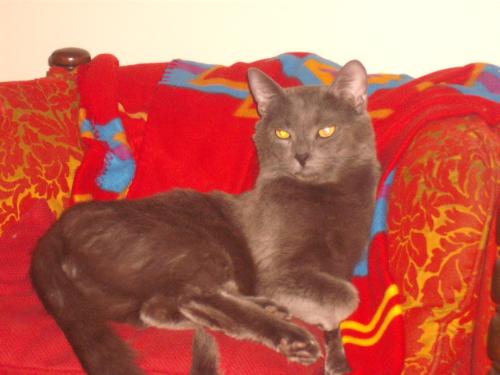 United States
April 17, 2013 6:03pm CST
One of my cats is constantly with me no matter where I go. I don't allow them in my bathroom so he sits outside the door when I'm in there. He is the one who has to be with me when I'm on the couch or sitting at my desk. My other cat spends most of his day sleeping on my bed. If I have to go in my room for anything I always stop to pet him, play with him and talk to him. As soon as I do that my other cat comes running in the room and jumps up on the bed and has to get in the middle of everything going on. Could he be jealous that I'm taking "his time" to play with his brother? Did you ever have a jealous cat?
4 responses

• United States
17 Apr 13
Yes, cats can be jealous. I've certainly had more than one. Scamp couldn't stand any other cat getting pet before him. Timus tolerates some of the cats, but others he just hates. He's pretty good with them the rest of the time, but if they are trying to get pets when I'm going to bed, he's known to pop them. The bad thing is that the one he hates the most is also half again larger and heavier than Timus. The Doctor was also jealous, but he would just stare at the other cat until they left.



• United Kingdom
18 Apr 13
Our youngest cat was like that, she had to be centre of attention, even though I adored Zeus, I know you should never have favourites, and I often wondered if the other cats sensed that he was my favourite, whenever I was in the bath, the youngest one would insist on sitting on the edge of the bath, she hated the water but equally she was very fascinated by it, it was her way of telling the other cats that she was allowed in the bathroom, it was like she was vying for my affection. Zeus never came in the bathroom or my bedroom except when I was ill and he wouldn't leave my side.

• Canada
18 Apr 13
No the cats we had were rather outdoor ones and really did not care. Although the cat across the street was jealous of the renter's cat and that cat was fixed, so had no idea what she was jealous about.