Why do we watch?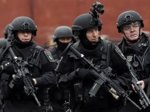 United States
April 19, 2013 12:17pm CST
Today is another horrible day in Boston, MA. They are tracking down the other guy responsible for the bombing on Patriots day. All the local tv channels are on live and we're watching them go from house to house trying to find him and check to make sure there are no more bombs planted anywhere. There are programs that I usually watch but I keep coming back to the news. I'm sitting here asking myself why am I watching this? Am I waiting for another horrible thing to happen? I know I'm not the only one watching because everyone is talking about it no matter where you go including the grocery store check out counters. What is the big thing about watching things like this happen? Why were we glued to our tv's during the 9/11 attack? Are we just morbid and want to see something happen? Anybody have any answers....I don't even know why I watch but do you know why you watch things like this going on?
8 responses

• United States
19 Apr 13
I've been watching since 4:00am this morning. I want to see them catch this kid. He's a murderer, even though he is very young. He killed people and is still killing, so of course I want to see him get caught. I find it amazing on how they are totally shutting down the city to keep the people safe and from harm. I find it amazing how they can possibly go from house to house and all along checking every hiding place possible. I'm not watching because I'm morbid...I'm watching because I want the little SOB caught and brought to justice so we can find out how many more are out there helping him. I want to know the reason. I guess I just want answers like everyone else does because there are so many questions. I hope they are able to catch him alive if that's at all possible, so we can find out what else was in store for us. These are the reasons I watch. I want to see him caught, one way or the other.

• United States
20 Apr 13
I'm very interested in finding out what he has to say. If he was working with someone other than his brother he might not 'rat them out' which would not be a good thing and we would still have to worry about more bombings in Boston. I find it unbelievable that he's only 19 and was a good freind and student. The whole thing is beyond my comprehension.

• Mexico
19 Apr 13
I do hear you I have been watching since 3 am for the most part and now i have just turned the channel at 3pm it is far to sad that they keep going on with it all day long how about let us know when it is over

• United States
19 Apr 13
Why are you saying it's sad that they keep going on with this all day long. They do it because most people want to see him caught and brought to justice. You could have changed the station anytime you wanted to, or turned it off. And of course they'll let us know when it is over.

• Mexico
19 Apr 13
sorry I did not spell it all out and make this a 9 page reply sad day due to all that was hurt or killed to clear this all up and yes one is daed and one still on the run


• United Kingdom
21 Apr 13
Sometimes it's just the pure curiousity, even though it may sound like a morbid fascination, part of us hopes that what we are hearing isn't real and it's like something out of a horror film, not real life. I don't tend to watch things like, there's enough doom and gloom, without watching it from the comfort of your home. It seems this is happening on a daily basis and you just wonder what's going to happen next.

• United States
19 Apr 13
We are by nature curious creatures. We want to know whats going on good or bad. nosey little things we are! Morbid? no, I don't think so

•
19 Apr 13
I am not going to lie to you or pretend it is for some moral reason like the other posters will more than likely do. We watch because it is interesting and it breaks the mundane same old same old.

• United States
19 Apr 13
Good question but I don't know if I have a good answer. I think sometimes when these horrible things happen, its unbelievable so we stare at the tv, listen to the radio, or read articles because its the only way we have to try to wrap our minds around it. Its been a rough week and my heart goes out to all the victims and their families. =(

• United States
28 Apr 13
I watched it on the news several time is not because i am waiting for another terrible thing to happen. On the contrary, i am keeping myself update on the changing event on the ground and latest information on the trail of suspected terrorists on the run, so that i can help to prevent more innocent people get kill by them again in new attack in my city or other city across the nation. It is the least i can do as a civilian person is to keep myself aware of this terrible act of terror happened inside my country and do my civic part to help in anyway possible whenever i have information for the law enforcement agency on these ruthless scums who are out to kill large number of people. The more awareness i can generate for myself on these strayed dogs that spread act of terror inside our community n our nation, the less likely they can escape capture when these is eye and ear in every corner of the land that help in delivery of justice to those killed by their cowardly and yet heinous act of terror.


• Puerto Rico
19 Apr 13

I have been watching only because I want to see them catch the murderer. I want them to catch him and not kill him so that we can find out why they did this. Why on earth you come to this country, living here for so many years and then decide to kill a bunch of innocent human beings enjoying a day at the Boston Marathon? I believe we deserve answers but if they kill this kid too then we will never know.